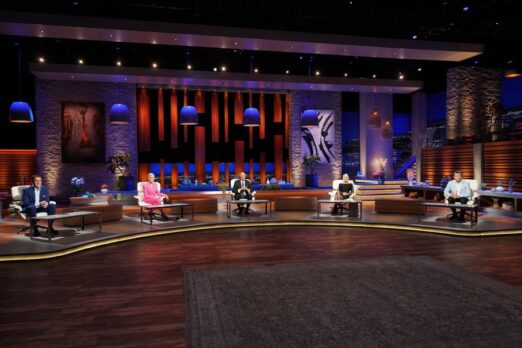 Mark, Barbara, Kevin, Lori and Robert are the Sharks in the Tank in Shark Tank episode 1407. Together, they'll evaluate 4 new businesses seeking an investment and a Shark's mentorship. Will the Sharks make any offers tonight?
Aaron and Julie Menitoff want a Shark to bite on Boarderie, their artisan, direct to consumer cheese board business. Donovan Brown and Garrick Mitchell give the Sharks a whiff of FRSH, their subscription based car air freshener business. Entrepreneurial brothers Garret and Dakota Porter pitch ActionGlow, their ten year old business that makes LED lighting systems for skis, snowboard and more. Mike Gutow showcases Legacy Shave, his adaptive nozzle for shaving cream cans with an attached shaving brush. Who catches a Shark tonight?
In season 13, Emma Grede invested $150,000 for 20% of Ooakshell, Mika Bertholdo's funky headbands business. We know Mika completely sold out of product after the original air date. Tonight, we'll see what else has happened since the investment was made (on air) just 6 months ago.
The Sharks
---
Barbara Corcoran
Robert Herjavec
There are 26  Shark Tank Episodes for Season 14. This season features the six "regular" Sharks: Mark, Daymond Kevin, Lori, Barbara and Robert. There are two new guest Sharks for season 14: Actress Gwyneth Paltrow and Door Dash founder Tony Xu. Returning "recurring" Sharks are Emma Grede, Peter Jones, Kendra Scott and Daniel Lubetzky. Casting is currently closed, but it never hurts to get a head start on season fourteen! If you would like to appear on the show, check out our Auditions and Casting information.
Episode 1407 – The Shark Investors and Entrepreneurs
The Shark Tank Episode 1407 entrepreneurs will make their best pitch to the panel of five Shark investors who will use their own money if they choose to invest. The Shark Investors negotiate on the spot without any previous information, which differs from typical negotiations between venture capital investors and entrepreneurial start-ups.
Companies pitching the Shark Investors must go through a rigorous due diligence process before an on-air deal is completed. Shark Tank Blog follow ups help you keep track of the companies that end up successful and the ones that don't complete their deal.
Thank you for reading SharkTankBlog, the number one site for Entrepreneurs, Investors and Fans. Our content updates multiple times day, giving you the latest information on Episode 1407, Season 14, and all other seasons and episodes.
Episode 1407 Press Release
"Episode 1407"
First into the Tank are entrepreneurs from West Palm Beach, Florida, who guarantee their artisan cheese and charcuterie board delivery business will impress and be the perfect gift for any event. Entrepreneurs from Los Angeles present their subscription-based product line designed to keep cars fresh and vibe while one drives; while brothers with an affinity for action sports from Traverse, Michigan, hope to lead the way with their stylish lighting kit for sporting equipment designed to keep people safe at night. Last into the Tank is an entrepreneur from St. Clair Shores, Michigan, who offers the ultimate shaving experience with his all-in-one solution designed to refresh and enhance all shaving needs.
In a "Shark Tank" update, Mika Bertholdo from Celina, Texas, and her investor Emma Grede have an update on ooakshell, a one-size-fits-all, multifunctional hair accessories.
The Sharks in this episode are Mark Cuban, Barbara Corcoran, Kevin O'Leary, Lori Greiner and Robert Herjavec.