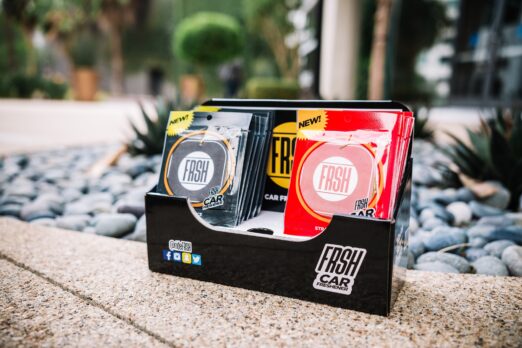 Donovan and Trey Brown hope for a deal for FRSH, their subscription based car air freshener business, in Shark Tank episode 1407. The pair co-founded the company with three other childhood friends in April, 2017 to update the car air freshener market. The guys got the idea for the business while brainstorming for business ideas in their LA apartment. One of them said "why don't we do something random like car air fresheners." So they did.
They sell their air fresheners in two ways. One is a subscription model. For $5 a month, they' send two random scents. For $7.25 per month, you can customize which scents you receive. With scents like Midnight, Peach,
Vanilla, New Car Scent, Cool Mint, Lavender, Strawberry, Woodgrain, Cherry, Jasmine, Leather, Pina Colada, Eucalyptus and Ocean Breeze, there's plenty to choose from. Each air freshener comes with a snippet of a song lyric on it. Since the FRSH air fresheners are thicker than a "pine tree" air freshener, they work twice as long.
They also sell in bulk packages when you purchase their licensed air fresheners. The company has licensing deals with the NBA and Viacom's Sponge Bob. They sell the NBA fresheners in 5, 10 or 20 packs. 5 packs are $14.99, 10 packs are $24.99 and 20 packs are $42.99. Sponge Bob air fresheners are $14.99 for a 6 pack and $24.99 for a 12 pack. The company has 10,000 active subscribers, which points to revenue of $600,000 per year. The products are available in over 2700 Target stores and they're in negotiations to be on the shelves in 6000 Dollar General stores. They likely want a Shark to help them scale in the $1 billion car air freshener market.
Company Information
Video

Posts about FRSH on Shark Tank Blog
FRSH Shark Tank Recap
Donovan and Trey enter the Shark Tank seeking $200,000 for 5% of their company. They talk about cruising down the road, enjoying a ride, until the car starts to smell. They show the old fashioned pine tree air fresheners and toss them away. Next, they introduce their air fresheners and tell the Sharks it's an untapped market. They explain their product and list a few of their scents. When they introduce the NBA licensed air fresheners, they do so with a Golden State Warriors air freshener and say it "smells like winning" (the Warriors defeated Mark's Dallas Mavericks in the 2022 NBA playoffs). They say air fresheners haven't changed in years and that they "smell a deal."
As the Sharks examine their samples, Mark says the guys made "the dumbest marketing move ever." Mark immediately goes out and tells Donovan and Trey they "need to read the room." He's clearly pissed off and ultimately doesn't say another thing through the entire pitch. Lori likes the scents. The guys pride themselves on having both traditional and non traditional scents, but their brand add a "cool factor" to the products as well.
Initially they were direct to consumer and proved the concept with $1.1 million in sales. This year (2022), they'll do $750,000 in sales. They believe the biggest potential is in retail and wholesale. They are close to closing a deal with Autozone, one of the largest automotive businesses in the USA, and will start in 2000 of their 6000 locations. The order will be for $2.1 million. 2021 sales were $540,000 with all subscription sales. 2 air fresheners per month is $8.25 and the 6 pack is $14.99. Each two pack cost 38 cents landed. Subscribers stay subscribed for 4 months.
Who's in?
Robert wants to know if they're profitable. On the $540,000 they sold in 2021, they profited $40,000. The guys talk about their backgrounds in sales and working at ad agencies and reveal they made an app for black and brown emojis back in 2014 – before they were ubiquitous on smart devices and computers. The Sharks are amazed when Trey tells them the car air freshener market is $300 million in the USA alone.
Lori thinks the fresheners are very male oriented. She thinks they need some female related fresheners. Since she wouldn't hang one in her car, Lori goes out. Robert says the guys are the "real deal" and he's trying to get his head around investing in them. He tells a story of a 24 plus hour road trip from Toronto to Florida when he was a kid. Robert was jammed in the back seat with suitcases piled around him and all he could see the whole time was the air freshener. Apparently, it was a traumatic experience; Robert is out. Kevin questions the $4 million valuation for a business that makes no money; he's out.
Barbara congratulates them for doing $750,000 in sales, but she's concerned about going into retail. Donovan says that's always been the goal and it was the only way to combat rising customer acquisition costs. Barbara offers $200,000 for 25% contingent on closing the Autozone deal. Donovan counters with 15% and Barbara says no. He comes back with 20% and Barbara agrees. Before they leave the stage, Trey and Donovan apologize to Mark and Mark says "it's all good."
FRSH Shark Tank Update
The Shark Tank Blog constantly provides updates and follow-ups about entrepreneurs who have appeared on the Shark Tank TV show.
The Shark Tank Blog constantly provides updates and follow-ups about entrepreneurs who have appeared on the Shark Tank TV show. On show night, Barbara Tweeted:
"Welcome to the family #RideFrsh! 2 fabulous entrepreneurs. #SharkTank
@ABCSharkTank"
Mark took a lot of heat on social media following this episode. One person called him "small and petty." The reaction from fans was nearly unanimous in slamming Mark's behavior. The Browns later revealed that they planned on jabbing Mark to get a reaction and some publicity. It worked!
As of October, 2023, there is no evidence the deal with Barbara closed. They are still waiting on the Autozone deal.
The Shark Tank Blog will follow-up on FRSH & Donovan and Trey Brown as more details become available.