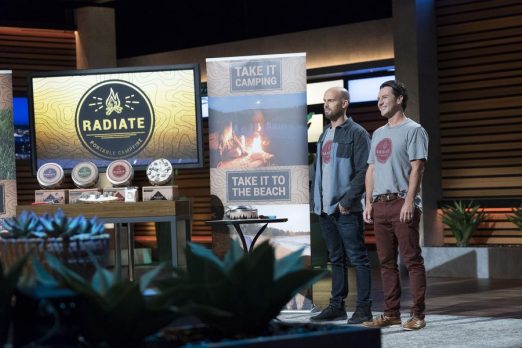 Brent Davidson and Bryan Cantrell seek to heat up the Tank with Radiate, their "portable campfire," in Shark Tank episode 919. Radiate is literally a campfire in a can. Each can is a little over 8 inches in diameter. They're packed with recycled paper pulp soaked in recycled soy wax. When lit, a "campfire" suitable for roasting marshmallows or hot dogs  lasts 3-5 hours. To extinguish it, just put the lid on the can. You can even douse it with water and it will re-light immediately if you want it to.
The guys launched the product in April 2017 with a successful Kickstarter that raised $6,256. This isn't their first business venture together – they're co-founders of Fleur de Spa, an eCommerce store that sells a proprietary line of skin care products. The idea for Radiate came from the excess wax they produced for some of their skin care products. They were using old wax as giant candles, but it was too messy and bulky to tote them around. One day, Bryan threw some wax and paper into an old cookie tin and the concept of a portable campfire was launched.
Radiate is great for anyplace you'd want a campfire, without the hassle. It's safer and better for the environment, too. Since it's made from 100% recycled materials, it's totally sustainable. They also make them right here in the USA. A two-pack costs $49; they also sell a four-pack for $95 and an 8-pack for $186. They likely want a Shark's help breaking into outdoor and sporting goods retailers. Will a Shark light up over this business?
Radiate Company Information
Video

Posts about Radiate on Shark Tank Blog
Radiate Shark Tank Recap
Brent and Bryan enter seeking $50,000 for 20% of their business. They give a brief history of the camp fire and light up one of their products. After they describe it, they hand out samples and Robert lights his up. The guys tell the Sharks they make each unit for $5.75 and sell it for $25.
Lori balks at the six hour burn time – she thinks it's too short. The other Sharks refute that claim and think six hours is a long time. One of the Sharks compares it to Instafire, but that product is used to start a traditional fire, not replace it.
To date, the guys sold and shipped about 11,000 units in 30 days. 400 of those were from their crowdfunding campaign. The Sharks have more questions, too. Lori asks if they have a campfire – they do. Robert wants to know if it's allowed where campfires are prohibited – the answer is mostly yes. Barbara wants to know if the container gets hot – yes it does and there is a warning label on the container.
Barbara then offers $50,000 for 25%, but the guys keep talking. Mark thinks it's too heavy – he's out. Lori cites a conflict with Instafire – she's out too. Rohan then matches Barbara's offer. Robert matches it too, but he chats with Rohan then ups the offer to $100,000 for 25%. Brent and Bryan quickly accept.
Radiate Shark Tank Update
The Shark Tank Blog constantly provides updates and follow-ups about entrepreneurs who have appeared on the Shark Tank TV show.  The deal with Robert closed. As is often the case, Radiate saw a big spike in sales after airing. The product was featured in numerous news outlets, too. Online reviews are mostly positive as well. The company gets an update segment in season eleven, episode 1109. In the update segment, Robert attends an evening event to celebrate the company's success and they light hundreds of candles when it gets dark. As of October, 2022, the company is still in business with annual revenue of $2 million.