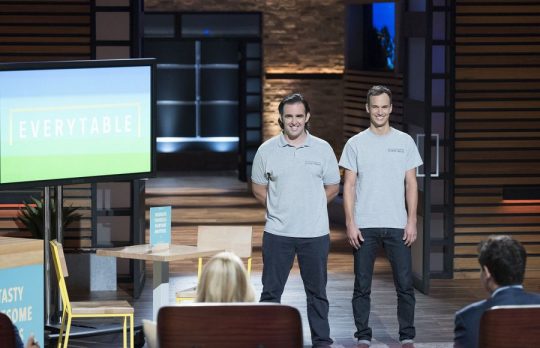 Sam Polk and David Foster want a Shark to sit at EveryTable, their healthy fast food concept with a social mission, in Shark Tank episode 919. Polk, a former hedge fund trader, and Foster, a former private equity professional, got together in 2014 at Groceryships. Groceryships is a non-profit organization that provides nutrition education, cooking classes, free produce, and support groups to low-income people. While working there, people kept saying they needed an "on the go" version of the types of foods Groceryships was touting.
That suggestion, along with Polk's social mission, was the beginning of EveryTable. Polk and Foster want "to bring healthy, affordable food to every table in the country, with no one left out." The way they do it is they locate in an area where there are no healthy dining alternatives – just fast food joints. EveryTable makes healthy meals at prices that compete with the McDonalds and Burger Kings of the fast food world.
They have top-notch chefs making things like Jamaican Jerk Chicken, Kale Caesar Salad, Vegan Yucatán Chili and so much more. Most meals are gluten-free and there are plenty of vegan options too. They currently have five LA area locations with plans to open more. Diners can heat hot meals in microwaves at each store or take their meal home. Pricing for meals is based on the neighborhood. Diners in a low-income area will pay less than those in a higher income area. Either way, Polk says the meals are affordable to diners in a given neighborhood based on ZIP Code-level per capita income data.
Polk likely wants to expand on a large-scale and a Shark could help accelerate the process. Will a Shark dine at EveryTable?
EveryTable Company Information
Video

Posts about EveryTable on Shark Tank Blog
Every Table – Healthy Food with a Social Mission
EveryTable Shark Tank Recap
Sam and David enter seeking $1 million for 5% of their business. They tell their story and explain their mission, then they hand out samples. The Sharks love the food. They explain how prices for the same meal are higher in affluent areas and they're lower in "food deserts." They explain that food deserts are places where healthy, low cost food isn't available – just fast food. Their healthy meals compete with cheap fast food on price.
Rohan wants them to justify their $20 million valuation. He tells them they raised $4.9 million at that valuation, but they are currently burning $125,000 a month, even with $650,000 in revenue from their original location and $2.9 million from 5 other locations. Each meal costs $2-$3 to make and sells for $4-$6 in food deserts, more in affluent communities.
Barbara says she admires their mission, but she is the first Shark to go out. Robert is impressed with how far they came in a year, but he goes out. Lori likes the mission, but thinks the guys don't have enough drive; she's out. Mark says they need to get to $20 million before he sees a return; he's out too. Rohan offers $1 million for 13.3% and they counter at 5.5%. When Rohan refuses, they go to 6.7%. Rohan makes a final offer: $1 million for 10%. They agree!
EveryTable Shark Tank Update
The Shark Tank Blog constantly provides updates and follow-ups about entrepreneurs who have appeared on the Shark Tank TV show. It is unclear whether the deal with Rohan closed or not, but I lean towards it not closing. EveryTable is not listed in his Crunchbase profile of investments.
This segment aired in January, 2018. 2018 sales were $4 million. In July, 2019, they secured $7 million in funding to open 13 new locations, including one at LA International Airport. In January, 2020, the company received low interest loans from two philanthropic foundations in the amount of $2.5 million. They plan on using those funds to open 25 franchise locations.
In November, 2020, they got another injection of funding – $16 million to be exact. This will help them expand nationally even more rapidly and deal with issues of food insecurity experienced during the Covid-19 pandemic in "food deserts."
As of December, 2021, the company has its core business in place with 10 drop in shops. The company plans to open 20 plus new locations in 2022 with hopes to become the "McDonalds of nutritious foods." They also started a subscription service in the LA area and they provide meals to food services. Annual revenue is $19 million. In March, 2022, the company opened 2 new stores in Santa Anna, California. The stores were the first two "graduates" of EveryTable University, a franchising program "to create pathways to wealth and business ownership for social entrepreneurs from marginalized communities."