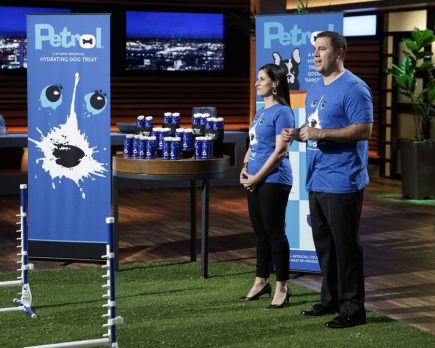 Julie Yenichek and Ryan Huyghe pitch PetRol, their hydrating treat for dogs, in Shark Tank episode 919. The pair, both entrepreneurs and dog lovers, developed their formula over a period of years and got it started with funds from an IndieGoGo campaign that raised $13,795 in the first quarter of 2016. Even though they raised less than half of what they sought, PetRol came to market.
Basically, it's like smart water for dogs. The company claims dogs prefer it 4 to 1 over regular water. They start with reverse osmosis filtered water. Next, they add "100 percent natural flavorings, plus six added vitamins and minerals that are good for dogs' overall health." Dogs, like people need to stay hydrated; a 35 pound dog needs 34 ounces of liquids per day.
A typical dog biscuit has about 120 calories while PetRol has 8 per 12 ounce bottle. It's a way to give your dog a treat and keep him hydrated at the same time. A four pack costs $17. They're available on Amazon exclusively, but they probably want to get into national pet stores. A Shark could help with that.
Will a Shark want to drink this dog's water?
Petrol Company Information
Posts about Petrol on Shark Tank Blog
Petrol Shark Tank Recap
Julie and Ryan enter the Tank seeking $150,000 for 20% of their business. They give their pitch as two dogs do agility tricks for the Sharks. Then they pour the dogs some PetRol and they lap it up. When the dogs leave the Tank, Lori asks if she can taste it. After tasting it, she says it tastes like broth. Julie explains that they started the business in 2010 but shelved it due to the recession and the inability to get small business loans at the time. The resurrected the business about 18 months ago.
Sales over the last 16 months were only $16,000 which does not impress the Sharks. Julie put in $100,000 of her retirement money into the initial start-up. $10,000 went to attending and exhibiting at a trade show and the other $90,000 went into product development. Ryan put in $25,000 when Julie resurrected the business to buy inventory.
Rohan says he's not sure if there is demand for the product and he's the first Shark out. Barbara is suspicious of businesses that start, stop and start again; she's out. Lori is not sure if this is something people will buy; she's out. Robert thinks there are too many "externalized challenges;" he's out. Marl gives Julie a lecture and tells her "sales cures all;" he's out too.
Petrol Shark Tank Update
The Shark Tank Blog constantly provides updates and follow-ups about entrepreneurs who have appeared on the Shark Tank TV show. This company shut its doors in January 2019. Julie is now a Director of Community Relations at Lowe's and Ryan is Executive Vice President of Able Roof and Mr. Roof.