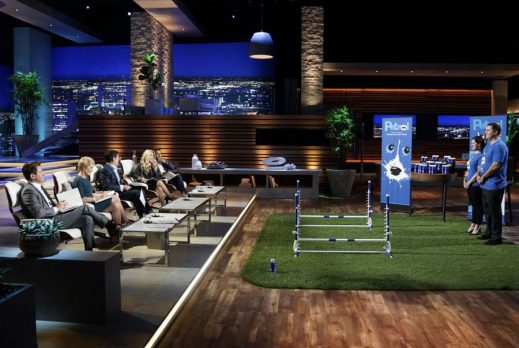 Julie Yenichek and Ryan Huyghe created Petrol – fuel for dogs – to give dogs a healthy, hydrating treat. Dogs need water – 34 ounces a day for a 35 pound dog – and Petrol delivers filtered water with 6 added vitamins and minerals that help keep dogs healthier. They designed Petrol to be a treat, too. They claim dogs love the stuff 4 to 1 over "regular" water.
People drink a lot of bottled water – over 10 billion dollars worth per year. Why not bottled water for dogs? Yenichek and Huyghe had the same thought a little over eight years ago while brainstorming business ideas. In 2016, they got support from the IndieGoGo community to start their business.
The product is only available on Amazon for now. The company website is spartan, too. It's about four bucks a bottle, so it's more expensive than regular bottled water. Customers (and their dogs) seem to like it. Out of 19 reviews on Amazon, only one reviewer said their dog didn't like it. Others remark their dogs view it as a treat. If Petrol fuel for dogs wants to be successful, they need to be in big chain pet stores. The know a Shark can help with that. Will Petrol be fuel for Sharks?
My Take on Fuel for Dogs
before our dog passed, we took bottled water along for her on outings. It was the same stuff we drink which costs us about seven cents a bottle. I couldn't imagine paying four bucks for a bottle of water for myself, let alone my dog. Occasionally, I'll buy a Vitamin Water for a couple of bucks at the convenience store, but for the most part, I stick to H2O.
The biggest problem I have with Petrol is the price. Part of the reason it's so expensive is it's sold online. If they could get this into stores at a buck or two a bottle, it would be more appealing to me personally. A lot of people I know have dogs and some of them are spoiled rotten. There is a large population of dog owners who will do almost anything for their "babies." While I'm not a customer, I'm in.
Will Sharks Fuel This Business?
Barbara has Ryan's Ruffery dog treats in her portfolio, so she has some pet trade experience. I'm interested in her take on this business. Robert will undoubtedly love any dogs they bring to the Tank, but he rarely even bids on pet businesses. Mark likely won't be a bidder and Petrol isn't up Lori's alley, either.
If this was made for humans, I'd say Rohan Oza would be the right Shark. The product fits his model, but I'm not sure he deals in the pet trade. He could be the wild card here, but if Julie and Ryan want a deal, I think their best bet is Barbara.