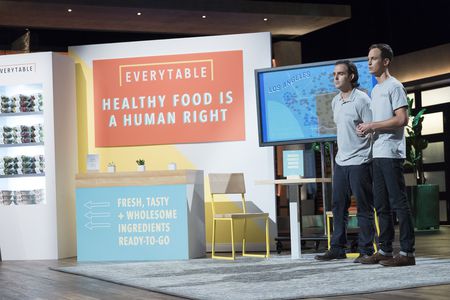 Sam Polk and David Foster started Every Table to bring healthy, affordable meals to places where those options were non-existent. They noticed most low-income areas don't have healthy meal options – the landscape is littered with unhealthy fast food restaurants that contribute to obesity, diabetes, heart disease and overall poor health. The old saying "you are what you eat" is creating generations of crappy cheeseburgers.
When you live and/or work in an area with unhealthy dining options, you likely do not eat well. That's where Every Table comes in. Polk and Foster – both wealthy former financial guys – decided to do something about it. Their business makes healthy, well-balanced, nutritional meals and distributes them in "grab and go" retail locations. They choose their locations (there are currently five in greater Los Angeles) based on the availability of healthy dining options. Customers come in, grab a meal and heat it up in a store provided microwave. Instead of a crap burger, people enjoy chef prepared delicacies like Vietnamese Chicken Salad or Smoked Salmon Bibimbap. There's even a kid's menu with chicken nuggets and spaghetti and meatballs.
The company says: "our mission is to make healthy food affordable and accessible to all." How they do this is innovative. Instead of five free-standing restaurants, they prepare meals in one, central kitchen. The grab and go storefronts are small by design. Their pricing is unique, too. If a storefront is in a higher income area, the price is higher there. For instance, a meal which costs $4.50 to prepare sells for $5 in Watts while it sells for $8 in Santa Monica. The price is affordable in either location and healthy food options are literally available to "every table."
Polk and Foster started the business for very socially conscious reasons, but they aren't strangers to turning a profit. Polk made millions as a hedge fund manager and Foster was a private equity manager. Every Table needs to make money to be sustainable and they know that, but they've skewed their profit model to make less money on people who can afford less and more on those who can afford more. A business owner in Santa Monica won't blink at an $8 lunch whereas a working mom in Compton might think twice. By keeping things relatively affordable for all, everybody benefits.
With five profitable kitchens in LA, they want to expand the concept to other cities. Since they locate in "food deserts" (places with no healthy dining options), they'll have no competition. They may have seed capital of their own, but they know a Shark could help them blow things up fast. Will a Shark want to sit at this table?
My Take on Every Table
With any food business, the food is the most important component. I haven't tried their meals, but they look AMAZING! Even at 8 bucks a meal, I find them affordable. They're certainly better nutritionally than a Happy Meal, too. If I had an Every Table in my city, I'd get it for dinner once a week.
The other thing I like about this business is their mission. What they are doing is admirable and the fact they can turn a profit doing it is very cool. Eating healthier reduces so many health problems that have ripple effects throughout our entire society and they will absolutely help solve that problem. I hope they get a deal and open these places all over the country.
Will Sharks Dig in to These Meals?
Polk and Foster are smart cookies. That's going to be a big plus in their favor. They can talk about the company, but when it comes to the numbers, they'll be on a level playing field with the Sharks. With Rohan Oza on the panel, the discussion could rapidly turn to branding. Oza builds food brands with the idea of selling them to big companies and his mission is to disrupt big brands with "'better for you' consumer lifestyle products." While Every Table is disruptive to the mainstream fast-food market, it isn't necessarily the kind of business he typically invests in.
Mark Cuban invested in Mush Oatmeal earlier this season after sparring with Oza over a deal. Oza wanted to blow the brand up, but Cuban won out because the founders wanted to "change the world." Polk and Foster want to change the world too and Mark will like their business savvy. I look for Oza and Cuban to be active bidders with Mark winning out.