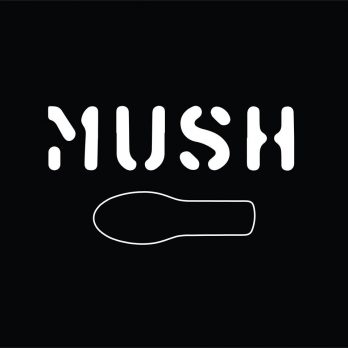 When most people think of oatmeal, they don't envision what Mush oatmeal is. The creation of Ashley Thompson and  Katherine Thomas isn't your father's (or mother's) oatmeal. Most people think warm, comforting mush when they think of the ubiquitous breakfast staple. Nobody thinks of oatmeal as an "on the go" breakfast; it's meant to be enjoyed at the table – preferably on a cold winter day.
Mush oatmeal is none of the above. The two women, former financiers turned entrepreneurs, created on the go tubs of cold-processed oatmeal for people who don't want sugar or preservatives in their breakfast food. They use an overnight soaking method to make their oats, using a "pressure process" as their method of preservation.
When they first started out, they peddled their wares at San Diego area farmer's markets. That quickly led to a deal with Whole Foods. For four bucks, you can get an 8 ounce tub of their cold organic oats. To date, sales are nearly $300K, so apparently people want their oatmeal cold and ready to roll. They're hoping a Shark feels the same way.
My Take on Mush Oatmeal
ABC never did release the names for businesses in episode 909, so Mush wasn't on the episode page until the morning after the show. For only the third time in the life of the Shark Tank Blog, I didn't know all four businesses appearing on the show. Mush was the third.
I couldn't find an "on the go breakfast food" anywhere that said they were going on Shark Tank. Google it: there are a gazillion "o the go breakfast foods" out there. The other three businesses were easy to find, even without an ABC press release. For some reason, Mush wasn't screaming from the rooftops about their appearance! That's odd, because they ended up doing a deal with Mark Cuban!
As for the product itself, I like my oatmeal hot. I don't think I'd buy it because I am not an "on the go" breakfast guy. I usually have some fruit and coffee for breakfast. On weekends, I like bacon and eggs. I remember when I'd eat on the run in the past and I don't miss those days, but oatmeal was something I'd never think of as a bring-along breakfast. I think they'll do well, especially with Mark as a partner, but cold oatmeal is not my cup of tea.
Sharks LOVED cold oatmeal!
Ashley and Katherine are passionate about their business. There's no doubting the freshness and nutrition of the product. The Sharks liked the taste, too. Robert and Lori went out, but Rohan, Barbara and Mark all made bids.
Rohan offered $400K for 20% and vowed to build the business to be sold to a big player. He said he'd make them both rich. The women had another mission however, more in line with Mark's vision. They want to change the world with their product and keep the business within their grasp. Mark compared them to Alyssa's Cookies (which he helped fund); the owner of that business keeps it relatively "small," yet still pockets $4 million a year!
Mark offers $300K for 10% plus an unlimited line of credit. Barbara matches that offer. Ashley and Katherine ultimately go with Mark, largely because of his vision. It turns out Sharks DO like Mush!