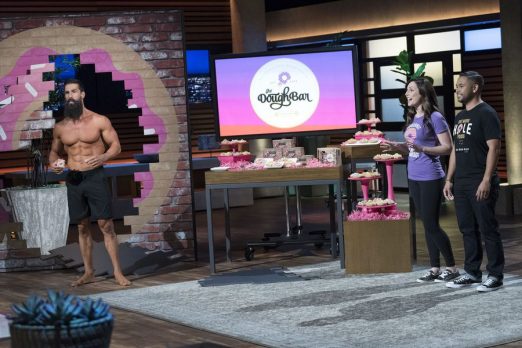 Dough Bar creators Ondrea Siniari and Marques Fernandez like to keep fit and eat healthy, but they like their sweets too. That's why they started cooking up protein doughnuts and, more recently, protein crispy bars (like Rice Krispie bars).  Unlike regular doughnuts, Dough Bar doughnuts are baked, not fried. Each doughnut has 11 grams of protein. While there are no gluten-free doughnuts yet, they're working on it.
The Crispy Bar is gluten-free. It's also dairy and soy free, plus it's vegan. Like the doughnuts, they have 11 grams of protein plus 9 grams of fiber. They got the Crispy Bars done with help from the Kickstarter community. They raised just over $20,000 for their first run.  A six-pack of Crispy Bars will set you back $19.49 or about $3.25 each. That pricing puts them in line with other protein bars on the market.
It seems Dough Bar is making a big push with the Crispy Bars. That's probably because they're easier to package and ship. The doughnuts are what got them on the map, though. They're baked more like a bread than a doughnut. Some doughnuts come with a glaze in a separate package and they say if you microwave them for ten to fifteen seconds, they have that "fresh made taste."
Ondrea and Marques sell their products online for now, but they'd like to get on the shelves alongside other protein bar products. A Shark could help with that.
My Take on Dough Bar
As I type this, I am in the midst of a three-week, gluten-free, carbohydrate free diet. Writing about doughnuts is making me hungry! I, like most people, like a good doughnut. I don't have them often, but every once in a while I'll grab one for a treat. The Dough Bar lets that treat be a bit more healthy, so I'm all for it.
While I won't be substituting an Oreo Cookies and cream doughnut for my steak anytime soon, I'd like to try this product. If they make good tasting, healthy doughnuts, I am all in!
Do Sharks Like Doughnuts?
This pitch looks entertaining. As you see in the photo, they have a wicked buff body builder handing out samples. He crashes through a "brick" wall to demonstrate how healthy their product is. I don't think that'll sway the Sharks one way or the other, but it looks funny.
One of the things the Sharks could object to is the potential health claims, but other nutrition products have done business with the Sharks in the past (Think Abs Protein Pancakes). If protein pancakes sell, why not protein doughnuts? This is another potential A-Rod bid – I think he'll be very active tonight. I'm just not feeling a deal here, but my guesses have been terrible this season!