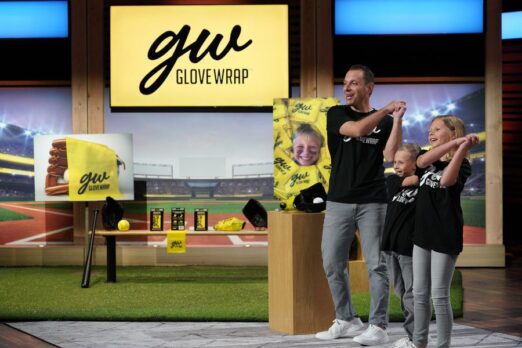 John, Morgan and Gavin Batarse pitch Glove Wrap, their invention that makes breaking in a baseball glove easy, in Shark Tank episode 1502. Both Gavin and Morgan play baseball and softball respectively. Gavin came to his dad one day with a big piece of rubber and asked if they could wrap his new glove in it and John said he had a great idea.
Things took off when a video of Gavin giving a Glove Wrap to Jon Gray and some other Texas Rangers and California Angels players went viral. It got 5.5 million views on Tik Tok. Basically the Glove Wrap is a giant piece of rubber that completely wraps around your glove, forming the perfect pocket.
Other methods for creating a good glove pocket are messy and time consuming and can actually shorten the lifespan of your glove. With Glove Wrap, simply put a ball in the glove, wrap it up tight and let it sit overnight. You can repeat the process as often as you want until your glove feels right. For $19.99, it's a good way to protect your investment in a new glove. Gavin and company likely want a Shark's help getting into big box sporting goods stores.
Company Information
Posts about Glove Wrap on Shark Tank Blog
Glove Wraps: A Game-Changing Solution
Glove WrapShark Tank Recap
John, Morgan and Gavin enter the Shark Tank seeking $50,000 for 20% of Gavin's business. Gavin says he loves baseball and he learned that the secret to catching a ball is breaking in your glove. When you buy a new glove, it's stiff, rigid and hard to close. Players do the craziest things to break in their gloves like driving a car over it or covering it in shaving cream and putting it in the oven. John says when he was growing up, he'd put his glove under his mattress. Gavin says there had to be a better way and now there is because he invented Glove Wrap. It's a giant rubber band that's the perfect shape and size for breaking in a glove while forming a perfect pocket.
The Sharks examine their sample gloves wrapped in Glove Wrap. Gavin demonstrates how to set it up. Lori asks how he figured it out. Gavin was breaking in a new glove and he wanted to use rubber bands, but they didn't have any. Gavin found a piece of rubber his dad used when he hurt his leg and asked him if he could wrap the entirety of the glove with it. That's how glove wrap was born.
Let's Talk Numbers
Gavin has sold over 1000 glove wraps and has over $19,000 in sales.  They cost $3 landed, they wholesale for $10 and retail for $19.99. They sell on Amazon, their website and 6 mom and pop shops. He just presented to Big 5, a major sporting goods retailer and they're going to be right next to where they sell their gloves. Michael says that was the first retailer he ever sold to. Morgan says her job is to keep everybody on track; she helps pack and ship orders every morning before school. Gavin says he knows Mark knows the people at Dick's Sporting Goods and wouldn't it be great to put Glove Wrap next to where they sell their gloves.
Mark thinks every baseball team would want some for their players and fans; that way Gavin could sell a bunch at a time. They could have "Glove Wrap Day" (like bat day) and give them away to kids. Barbara says she has something similar for medical purposes, why would she need this product? John says theirs has a larger width, legnth and thickness so it can be used with any glove. Kevin says Gavin has to drop out of school and work full time. Kevin says he doesn't want him to do that; he's out. Lori says Gavin is super clever, but there are more sporty Sharks that could help him; she's out.Barbara thinks Mark would be a good partner and Michael says he would; Barbara is out. Michael tells him about how he knows a lot of retailers and ballplayers and he asks Mark if he'll partner up. They offer $50,000 for 22% and Gavin says they have a deal.
Glove Wrap Shark Tank Update
The Shark Tank Blog constantly provides updates and follow-ups about entrepreneurs who have appeared on the Shark Tank TV show. The night of the original air date, Michael Rubin Tweeted:
What an inspiring story!! Had the opportunity to invest in 8 year old Gavin and his company @glovewrapTM ! Can't wait to watch Gavin grow as a young entrepreneur – the sky is the limit !!
Rubin also said "That kid is a young me. I want him running Fanatics in 10 years."
The Shark Tank Blog will follow-up on Glove Wrap & John, Morgan and Gavin Batarse as more details become available.