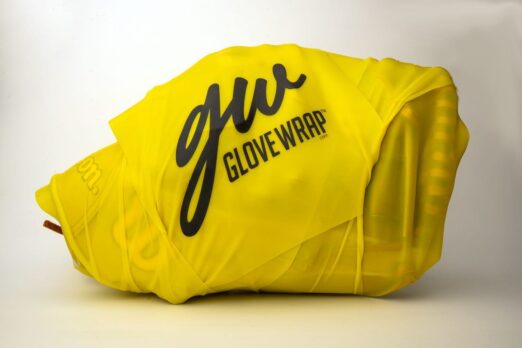 Seven year old Glove Wraps inventor Gavin Batarse understands the value of a perfectly broken-in glove. Whether you're a hockey goalie or a baseball/softball player, your glove is your most cherished equipment. It takes years of blood, sweat, and tears to achieve that perfect pocket, but what if there was a quicker, more effective way to achieve it? Enter "Glove Wraps," the innovative product that will appear on the hit TV show Shark Tank.
Glove Wraps is the brainchild of young Gavin Batarse, a baseball enthusiast who created the product alongside his dad. Gavin understood the struggles of athletes trying to break in their gloves the traditional way – by playing catch, pounding their gloves with baseballs or pucks, and meticulously oiling and tying the glove's laces. It's a time-consuming and sometimes frustrating process that can take weeks, if not months, to yield the desired results.
However, Gavin Batarse set out to change this game, and his solution was Glove Wraps – a product that promised to create a perfect pocket in a hockey goalie, baseball, or softball glove with minimal effort and time.
Glove Wraps: Simple Yet Effective
The concept behind Glove Wrap is beautifully simple. It's basically a giant rubber band. You place a ball (or puck) in the pocket of the glove and wrap the glove up tightly. Over time, the pressure exerted by Glove Wrap forms a pocket that feels like it's been broken in through hours of gameplay. It's a process that usually takes just a few days, compared to the traditional method, which can take months.
The sharks will be immediately impressed with Glove Wrap's ingenuity and efficiency. Mark Cuban, known for his investments in sports-related ventures, should be quick to see the potential of the product.
Athletes across the country have been raving about the product's effectiveness in breaking in their gloves quickly and effortlessly. Whether you're a budding Little Leaguer, Major Leaguer or a seasoned NHL goalie, Glove Wraps is becoming a must-have addition to your gear bag.
The Journey
What's truly heartwarming about Glove Wrap is the family-oriented journey behind its creation. When Gavin presented the idea to his dad, John thought it was an excellent idea. The family's commitment to solving a common problem for athletes and involving his kids in the process is a testament to the power of innovation, dedication, and the pursuit of a dream.
So, if you're tired of the old-school glove-breaking methods and want to step up your game with a perfectly pocketed glove, give Glove Wraps a try. It's the game-changer that's making waves in the sports world, and it all began with a dad and his two kids on Shark Tank.