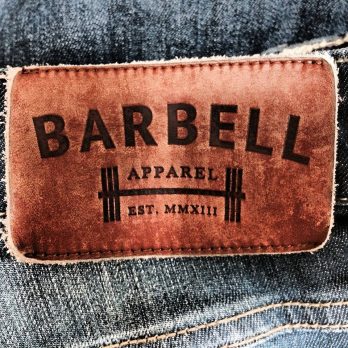 Karl Workman and Hunter Molzen pitch Barbell Apparel, their line of jeans and pants designed to fit body builder bodies, in Shark Tank episode 810. Workman, a UNLV graduate who was an assistant manager at WalMart, started the company because he was tired of struggling to get his muscular legs into "regular" jeans. He got the business off the ground with one of the most successful fashion Kickstarters ever. Through three Kickstarter campaigns, Barbell Apparel raised over $1 million.
The first product was jeans that fit large, muscular legs. There are mens and womens jeans made from "Advanced Flexible Denim." All are made in the USA. This material stretches and breathes better than regular denim. Jeans cost around $150 per pair. There are also Chinos and board shorts. The newest product is the TakTek – pants that look like dress slacks and let you "seamlessly transition from business casual, to urban lifestyle, to outdoor performance."
Workman likely wants to build brand awareness and get help with getting into retail. Will a Shark wear these pants?
Barbell Apparel Shark Tank Recap
Karl and Hunter enter seeking $500,000 for 5% of their business. They tell their story and demonstrate the clothing – which they are wearing. As they hand out samples, Kevin jumps down their throats over the high valuation. Karl tells him they had $2 million in sales and expect to double that the following year. They expect a half a million bucks in profits. They say they're in the Tank because they can't keep up with inventory.
Daymond doesn't like denim because it lasts too long. He wants repeat buyers. He's out.  Mark isn't sure how they can protect their brand against competition – he's out. Lori can't see herself investing, she's out. Robert thinks the inventory issue will suck up too much cash, he's out. Kevin says the industry they are in "inhales cash"  and he's unwilling to take the risk. RESULT: NO DEAL
Barbell Apparel Shark Tank Update
The Shark Tank Blog constantly provides updates and follow-ups about entrepreneurs who have appeared on the Shark Tank TV show. Barbell was able to overcome their inventory issues and expand their line. They also added a women's line. As of 2021, the have two retail stores in Las Vegas, NV and Scottsdale, AZ. Their estimated annual revenue is around $5 million.
Posts About Barbell Apparel on Shark Tank Blog
Pumped Up Bar Bell Apparel Falls Flat
Barbell Apparel Company Information
Video