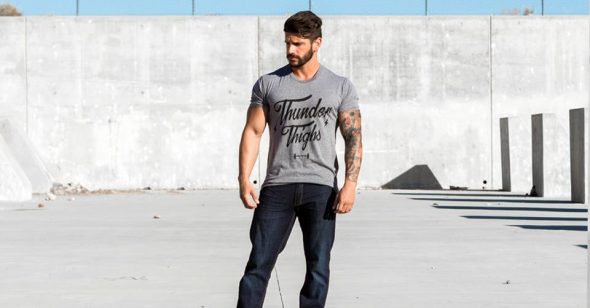 I love it when people surprise you. Take for instance Bar Bell Apparel owner Karl Workman. It would be easy to categorize him as a jock, meathead, beefcake, or he-man. Look beyond his muscular build and you'll find a brilliant entrepreneur that just cracked the code on a new niche in the competitive apparel market: pants for larger athletic quads. With $2.3 million in sales, high profit margins and a growth rate of 100%, Barbell Apparel should have caused a feeding frenzy amongst the Sharks. Alas, Workman walked away without a single bite. Let's take a closer look at why that happened.
Bar Bell Apparel is 100% Online
Workman proudly declared Bar Bell Apparel is only sold online. Sales are coming in so fast, however, that they're having trouble keeping up with demand. This is an example of a classic cash flow gap. For larger orders, manufacturers want to be paid upfront or upon delivery. Bar Bell doesn't have the money until they sell the jeans. They need money to help bridge that gap. If they had a purchase order from a reputable retailer, they could secure purchase order financing. The purchase order is viewed as collateral. With an online only sales model, lenders have no guarantee that the jeans will be sold so it's too risky. This leaves Bar Bell Apparel with limited funds to purchase inventory.
Over Priced Valuation
Well, we've seen this before: seeking $500,000 for a 5% stake puts BarBell Apparel at a $10 million valuation. Asking for that much changes the stakes immediately for a Shark. That's a lot of money in an industry that's notorious for copycats. An established apparel maker with solid retail distribution could easily eat into their market share. They came in willing to make a deal and lower their valuation, but setting the initial price too high scared the Sharks away.
In an unprecedented show of respect, every single Shark complimented Bar Bell Apparel's success thus far. Post show demand, however, will explode. If they already identified inventory as an issue, will they be able to keep up with the spike in demand? Hopefully they anticipated this issue prior to airing and considered their options. In the short-term, they should rethink their valuation immediately to secure an investor to help with the immediate cash flow gap. In the long-term, they should consider expanding distribution to retailers. A retail partner would issue a purchase order and Bar Bell Apparel would submit invoices after product delivery. These secured documents will allow them to tap into investment tools like purchase order financing and accounts receivable financing.
Guest Poster Dan Casey, founder and CEO of purchaseorderfinancing.com, believes every business has a story to tell. He's been listening and helping small businesses grow exponentially since 2002 using a creative combination of finance tools. He's been featured in publications including Entrepreneur Magazine, Entrepreneur Online, Small Business Trends Online, The Washington Post, Crain's Chicago Business & American Express Open Forum.
Visit www.purchaseorderfinancing.com and be sure to mention Shark Tank Blog to get a free subscription to Fast Company or Entrepreneur magazine.*

*Must qualify for financing to receive special offer exclusively for SharkTankBlog.com readers.