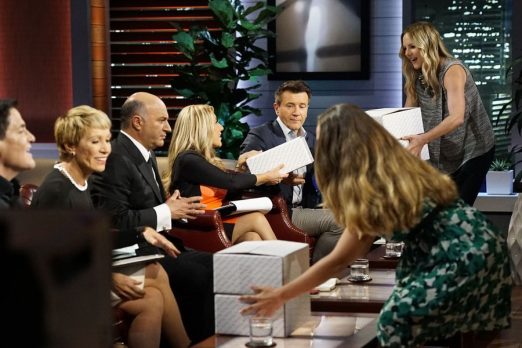 Elena Petzold of Mama's MilkBox is on a mission to support nursing moms, but she needs to first understand how her business works. As a breastfeeding apparel subscription service she is using a business model that requires buying inventory upfront. It's painful to watch someone trying to use passion and enthusiasm to mask their ignorance of basic business financing concepts. Here are basic questions asked by the Sharks that she didn't answer well. Let's break them down and learn from her mistakes:
Q: What's your margin on the product you resell from others?
A: It's usually around 50% but it is hard to tell. I need better technology like that. That is why I'm here.
Mama's Milkbox Needs to know MARGINS
Gross margin is a critical number for any business because it reflects what a company earns from its sales minus the cost of goods sold. Petzold explained that some of the shirts Mama's Milkbox includes in the subscription service are purchased from manufacturers. The Sharks asked what her gross margin is every time she sells one of those shirts. Sharks need definitive answers to these questions and she sank in the tank when she added "it is hard to tell."
Here's how to calculate gross margin using a generic example:
1. Mama's MilkBox buys nursing shirt A from manufacturer for $20
2. She sells shirt A for $40. Her markup is $20.
3. First we calculate her markup: Price she paid for the product ($20) divided by the markup ($20). Percentages are determined by moving the decimal point two spaces to the right. So 20/20 = 1.00. Convert it to a percentage and you get 100% markup.
4. Next we calculate gross margin: Divide markup ($20) by the price her customer paid for it ($40). So 20/40 = 0.5. That means a 100% markup resulted in a gross margin of 50% for Mama's Milkbox.
Q: How much did you pay for your inventory?
A: It's about $120,000…I did a line of credit for $40,000 and I have $27,000 on credit cards. (She previously mentioned starting with $11,000 of her own money)
Cost of Goods
This isn't a trick question. The Sharks were trying to secure a number for "cost of goods." Based on that, they can calculate her gross profit to understand whether or not Mama's Milkbox is a smart investment for them. Once again, you cannot give approximations. The Sharks asked this question multiple times in different ways and each time she added something new. This does not breed confidence in her business acumen. You need to provide concrete amounts and be able to back it up.
If business financing isn't your specialty, this episode of Shark Tank should remind you why it's critical to work with an accountant to understand the fundamentals. From there, crunch your numbers and understand the costs of doing business. An investor wants to know their money is being invested in a company that can grow money (preferably exponentially!).
Guest poster Dan Casey, founder and CEO of purchaseorderfinancing.com, believes every business has a story to tell. He's been listening and helping small businesses grow exponentially since 2002 using a creative combination of finance tools. He's been featured in publications including Entrepreneur Magazine, Entrepreneur Online, Small Business Trends Online, The Washington Post, Crain's Chicago Business & American Express Open Forum.
Visit www.purchaseorderfinancing.com and be sure to mention Shark Tank Blog to get a free subscription to Fast Company or Entrepreneur magazine.*

*Must qualify for financing to receive special offer exclusively for SharkTankBlog.com readers.