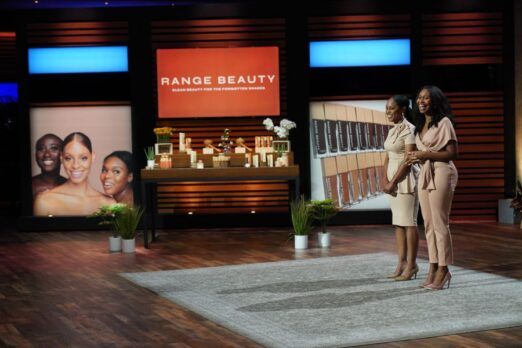 Alicia Scott and her cousin Myisha Fantroy pitch Range Beauty, their "inclusive" cosmetics line, in Shark Tank episode 1315. Scott created the products in 2017 under the name Skinny Dip Cosmetics. She wanted products that reflected her skin tone and weren't harmful to her skin. Eczema and acne are problems many black women have and over the counter cosmetic brands contain many harsh chemicals. Her goal was to change that.
She arrived at a formula with a cosmetics maker. The cosmetics are all natural and contain French clay, cornflower, chamomile, vitamin E and argon oil. With just $300, she launched and saw about $1000 in sales. When a big Twitter influencer re-tweeted a tweet she wrote about her product, sales blew up. The re-tweet said of her products, "this is what you call Range." This led Scott to rebrand as Range Beauty in 2018. 2018 sales were just $30,000, in 2019 they were $45,000 and in 2020 they were $300,000. That's when she quit her job and went all in full time.
Even though she originally created the brand to reflect hues for women of color, what really made her products stand out was the sensitive skin angle. Other cosmetics makers began offering similar hues, but Range Beauty products work well for women with acne and eczema. Once she focused her messaging on that is when sales took off. She completely bootstrapped the business with the help of $50,000 in grants and a $200,000 "win" in a pitch competition. The products are available on the company website and at Target. She likely wants a Shark's help getting further retail distribution.
Company Information
Posts about Range Beauty on Shark Tank Blog
Alicia Scott – Range Beauty Founder
Range Beauty Shark Tank Recap
Alicia and Myisha enter the Shark Tank seeking $150,000 for 6% equity in their company. They talk about why they founded the company and the quality of their products. They have 21 "under represented shade." The Sharks examine their samples as they tell each Shark what products they have. Alicia tells the Sharks how she came to start the business. Myisha explains that she is the product manager.
What makes Range different is they treat eczema and acne. Sales for 2018 were $20,ooo, 2019 was $45,000, and in 2020 Alicia went full time and sales were $330,000. They made sure their eCommerce was in place by offering low cost sample kits. 80% of people who bought  the sample kits purchased again. They are in Target and they're selling out. Target sales were good. Price for their foundation is $21 and costs $4.25 landed; it wholesales for $10.50. Their products are in the "mastige" price range: between low end and high end cosmetics.
Mark says he'll clear the deck and go out. Emma asks if they also have shades for light skinned people – they do. Barbara says she likes to make a difference in the businesses she invests in, she doesn't see the fit – she's out. Kevin says he's usually hard on cosmetics companies because they don't have any differentiation. Even though Range Beauty does, Kevin wishes them well and goes out.
Lori and Emma team up to offer $150,000 for 20%. Alicia counters with $150,000 for 10%, they decline. Emma says they need help getting into retail and Emma says she and Lori can help. Retail is a constant grind. Alicia counters with $200,000 for 20% and they decline again. Finally, Alicia accepts.
Range Beauty Shark Tank Update
The Shark Tank Blog constantly provides updates and follow-ups about entrepreneurs who have appeared on the Shark Tank TV show. The first re-run of this episode is in July, 2022 – just four and a half months after the original air date. It appears the deal with Lori and Emma closed. Also at this time, they are in negotiations to get $1.5 million in venture funding. Reliable revenue figures are unavailable at this juncture. The Shark Tank Blog will follow-up on Range Beauty & Alicia Scott and Myisha Fantroy as more details become available.