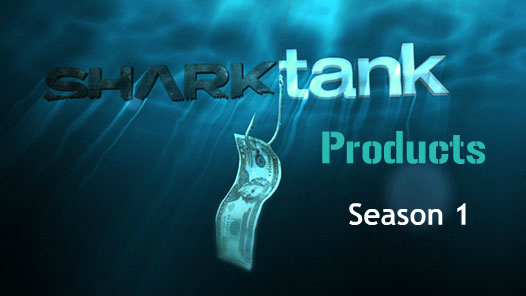 Shark Tank Season 1 Products
The following is an alphabetical list of all season 1 products.
50 State Capitals Deck
A Perfect Pear
Attached Note
AVA The Elephant
The Bobble Place
Body Jac
Boogie Box Fitness
Captain Ice Cream
Caffeindicator
Chef In Black, Inc.
Chill Soda
Chopstick Art
Classroom Jams
Coffee Brand Gifts
Coverplay
Cornucopia Express
Crooked Jaw
Element Bars
Face Blok
The Factionist
The Fizz
Fridge Fronts
The Fun house Project
Gayla Bentley Fashion
Gift Card Rescue
Good Grief Celebrations
Graffiti Removal Services

Grease Monkey Wipes
Grill Charms
Hells Bells Helmets
Ink Flip
Ionic Ear
Jump Forward
Kalyx Technologies
LegalGrind
LifeBelt

Lightfilm
LipStix ReMix
Llama Brew
Mr. Poncho
Mr. Tod's Pie Factory
My Therapy Journal
New Era Brands
Notehall

Nubrella (now Canope)
Pillars of Slippers

Qubits Toys
Romp N' Roll
SENDaBALL
Souls Calling, Inc.
Soy-Yer-Dough
Thin Gloss


Throx
Treasure Chest Pets
TurboBaster

The Twister
Underease Underwear


The URO Club
Virtusphere

Voyage Air Guitar
Washed Up Hollywood
Wee Can Shop
WiSpots
The Season 1 products and businesses that appeared on ABC's Shark Tank feature some of the best Shark Tank Success stories in the history of the show. All products are listed on this page in alphabetical order, from A-Z. Many  can be purchased from Amazon with NO SHIPPING COSTS!
Shark Tank entrepreneurs from every season count on Amazon to provide the trust, fulfillment, and low or no cost shipping today's online shoppers demand. If a season 1 product is listed on Amazon, you can be sure the business is sound and the entrepreneur values good fulfillment services.
Do you have a Shark Tank fan on your gift list? An Amazon Gift Card is a great way to let them choose their favorite Shark Tank Products for themselves.
There are season 1 products that can be found on direct websites, too. Some Shark Tank products are available exclusively from an individual businesses' site. Some businesses choose not to list on Amazon so their brand won't be eroded by discount wholesalers. This is a valid reason for selling direct and in no way should be considered a poor reflection on an individual company.
For great inside information on the Shark Tank on ABC, be sure to visit The Shark Tank Blog.