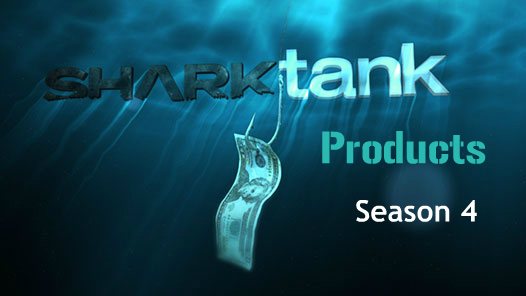 Season 4 Products As Seen on Shark Tank
Alphabetical list of all season 4 products.
Addison's Wonderland
Alpha M Style System
ArKeg
Baby Loves Disco
Babys Bad Ass Burgers
Back 9 Dips
BagBowl

Bev Buckle
Bibbitec
Black Magic Tattoo Removal
Body Walking Institute

Cell Helmet
Coatchex
Coffee Joulies
Cool Wraps

CordaRoy's
Cork's Away Wine Adventures
Cool Wazoo
Cousins Lobster Truck
Cozy Bug
Cuddletunes
Drive Suits

Dura Tent
Eco Nuts
Echo Valley Meats
eCreamery
Fat Ass Fudge

Freaker
FuzziBunz
Geek Chic
Gobie H2O
Gotta Have S'More

Green Garmento
Grinds Coffee Pouches
Hip Chix

Ice Chips
Jeska Shoe Company
Jones Scones

Kazam
LiddUp


Lifter Hamper
Liz Lovely Cookies
Lose 12 Inches
LugLess

Marz Sprays
Mee-Ma's Gumbo Brick

Mission Belt
Misto Box
Muddy Water Camo
My Cold Snap
Nearly Newlywed
No Fly Cone


nPower Peg


Nuts n More
PartiePoche
PC Classes Online
PlateTopper
Pretty Padded Room
Proof Eyewear


Psi Bands
PostureNOW
PRO-NRG
Revestor
Rockbands


Root Suit
RuckPack
Ryan's Barkery


Scrub Daddy
Shemie


Simple Sugars
SmartWheel
Solowheel


SoundBender
Squirrel Boss
StellaValle
SubZero Ice Cream
Surfset


Teddy Needs A Bath
The Bear and the Rat Cool Treats for Dogs
The Coop
The Game Face Company
The Living Christmas Company
The Pink Shutter


The Spatty
Three Day Rule
Tie Try
Tom and Chee
Track Days
Traditional Fisheries


Urbio
Verbalizit
Vermont Butcher Block and Board Company
Wicked Good Cupcakes
Wired Waffles


Xeroshoes


Zomm
The Season 4 products and businesses that appeared on ABC's Shark Tank feature some of the best Shark Tank Success stories in the history of the show. All season 4 products are listed on this page in alphabetical order, from A-Z. Many season 2 products can be purchased from Amazonwith NO SHIPPING COSTS!
Shark Tank entrepreneurs from every season count on Amazon to provide the trust, fulfillment, and low or no cost shipping today's online shoppers demand. If a season 4 product is listed on Amazon, you can be sure the business is sound and the entrepreneur values good fulfillment services.
Do you have a Shark Tank fan on your gift list? An Amazon Gift Card is a great way to let them choose their favorite Shark Tank Products for themselves.
There are season 4 products that can be found on direct websites, too. Some Shark Tank products are available exclusively from an individual businesses' site. Some businesses choose not to list on Amazon so their brand won't be eroded by discount wholesalers. This is a valid reason for selling direct and in no way should be considered a poor reflection on an individual company.
For great inside information on the Shark Tank on ABC, be sure to visit The Shark Tank Blog.