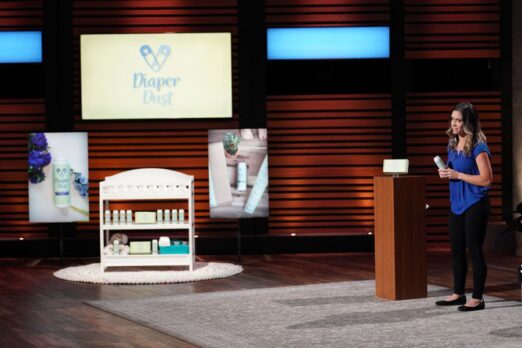 Regina Crisci seeks a Shark investment in Diaper Dust, a product that controls diaper odors, in Shark Tank episode 1315. Crisci is a nurse by profession. When she had her son, she described his dirty diapers as "fierce." She couldn't stand the lingering smell of the dirty diapers, even when they were double bagged or the diaper pail was doused with fragrances. When she couldn't find a solution, she set out to create her own.
What she came up with is a product that neutralizes the odor from a soiled diaper. There are no other bags or deodorizers needed. Simply sprinkle Diaper Dust on a soiled diaper and roll it up. It can go into any trash can and it won't stink. It's a mixture of activated charcoal and sodium bicarbonate and, according to the many rave reviews, it works.
An 8 ounce container costs $14 or you can get two 4 ounce containers for the same price. They're for sale on the company website and Amazon. Regina is still in nursing, so she likely wants a Shark's help running the business and getting into big box retail. Will a Shark invest or think this business stinks?
Company Information
Video

Posts about Diaper Dust on Shark Tank Blog
DiaperDust – For Stinky Diapers
Diaper Dust Shark Tank Recap
Regina enters the  Shark Tank seeking $75,000 for 40% equity in her company. She explains how other dirty diaper solutions don't work. She has mock dirty diapers on the Sharks sample tables. They smell them and they're horrified. When they sprinkle Diaper Dust on the diapers, it works. Lori asks if there are others out there – there are and she has a patent pending. Regina makes it in her back yard.
Sales since December 2020 are just $3000. It costs $3.50 landed and sells for $14. Sales are coming largely from social media and word of mouth. Kevin wants to know what she wants from a Shark. She talks about her nursing job and she loves it. Regina feels out of her element and wants mentorship.
Kevin says his baby diaper days are over, he's out. Regina hasn't even sought manufacturing. She says she respects money and she'll fight. Barbara is concerned that she's part time, she thinks Regina needs a working partner – she's out. She says she's even willing to sell her house and Mark tells her not to. Lori says it's too early – she's out. Emma says she respects what she's done and identifies with the problem. Since she hasn't figured out marketing, she's out. Emma thinks she should connect with mom influencers.
Regina says she'll walk away from nursing with the right mentor. Mark says she's every bit  of an entrepreneur. Mark offers  $75,000 for 40% and Regina tearfully accepts.
Diaper Dust Shark Tank Update
The Shark Tank Blog constantly provides updates and follow-ups about entrepreneurs who have appeared on the Shark Tank TV show. While there is no reliable evidence the deal with Mark closed, Regina told the Miami Herald that Mark "and his team have been wonderful." In the immediate aftermath of the original air date, the product completely sold out. She also ran into an issue with her bottle supplier and had to seek out a new one. As of June, 2022, Regina is still working as a nurse. Regina told me via blog post comment in August, 2022, that the deal did close.
As of February, 2023, her website is revamped and she's still a practicing nurse. Lifetime sales are approaching $1 million.
The Shark Tank Blog will update this page as more information on Diaper Dust and Regina Crisci becomes available.