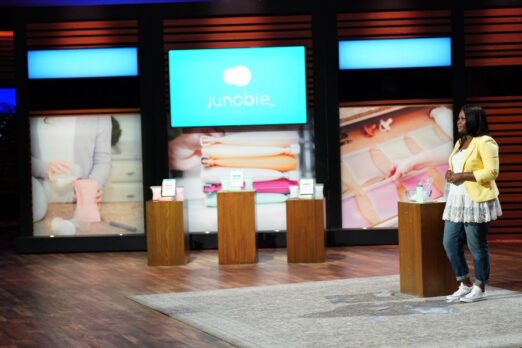 Nikeytha "Nickey" Ramsey hopes for an investment in Junobie, her reusable breast milk storage system, in Shark Tank episode 1315. Nickey is a mother of two who was looking for a better solution for storing breast milk. Leaky plastic bags and cumbersome glass bottles weren't doing it for her. When she went to find a better solution and couldn't find one, she decided to invent her own.
She started the business in 2019, but life wasn't always rosy for Nickey. She grew up in an impoverished environment and her family was even homeless for a time. With good advice and mentorship, she managed to graduate high school and go on to college where she majored in audiology and speech pathology. Now, she brings the same tenacity that got her this far to her business.
As for the bags, they are made from food grade silicon and are freezer, microwave, dishwasher, fridge and even oven (up to 250 degrees) safe. They come in a variety of colors and hold up to 8 ounces of breast milk. She also has milk boxes that conveniently hold the bags in a rigid form. A two pack of bags is $19.99 on the company website. Reviews from happy moms are universally good, but there are many copycat products out there. Nickey likely wants a Shark's help quashing the knockoffs and getting into big box retail.
Company Information
Video

Posts about Junobie on Shark Tank Blog
Junobie Reusable Breast Milk Bags
Junobie Shark Tank Recap
Nickey enters the Shark Tank seeking $100,000 for 10% equity of her company. She says she wanted a better way to store her breast milk. That's why she invented Junobie. It's eco-friendly and reusable. Her bags have lines to know how much milk is in there. The Sharks inspect their samples. Barbara says it's easy to use. and they stand upright. She tells how she came to invent the product. She had to produce more milk because her son nursed a lot.
They retail at $34.99 for the four pack and the two pack is $19.99. The four pack landed is $7.80 and the two pack is $4. Kevin loves the margins. Emma says she loves the product and wants to hear about the competition. She started the business in 2019 and knock offs began appearing in the marketplace. One competitor has a similar bag, but it is of inferior quality.
Sales for 2021 are $86,000 year to date (July, 2021). They were on Amazon but had inventory issues because they are self funding. She has a six week lead time for production. Nickey tells about her difficult upbringing. A school counselor connected her with a homeless shelter and she went on to college. Emma wants to know sales projections for the rest of the year. Nickey says it will be $300,000 by the end of the year.
Nickey needs money for inventory. When Barbara asks if they're in stores, Nickey says she was working with a broker, but she put the funds back into inventory instead due to the pandemic. Kevin says the product is a disconnect for him, he's out. Mark is out too. Lori says she loves Nickey but she doesn't think it's the right business for her, she's out. Emma thinks businesses with a purpose will be successful. She offers $100,000 for 25% of the business. Barbara says she would have made the same offer, she's out. Nickey counters Emma with $150,000 for 12%.
After a break, Emma says no. Emma says she's Nickey's only hope. Mark encourages Nickey to take the offer. Nickey counters with $100,000 for 15% and Emma counters with $100,000 for 22.5%. Ultimately Nickey accepts Emma's offer.
Junobie Shark Tank Update
The Shark Tank Blog constantly provides updates and follow-ups about entrepreneurs who have appeared on the Shark Tank TV show. In a post show interview, Nickey called the deal with Emma "life changing." Annual revenue as of June, 2022, is $1 million. By February, 2023, she added milk warming cups, milk boxes, trays, jars and snack stash bags to the line. She's also added online lactation counseling services. In May of the same year, Junobie was named one of the top breast milk storgae solutions by Marketwatch.
The Shark Tank Blog will follow-up on Junobie & Nikeytha "Nickey" Ramsey as more details become available.