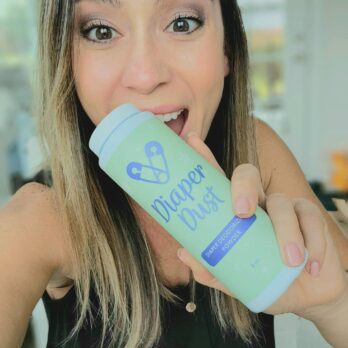 DiaperDust inventor Regina Crisci created her product because she hated the lingering odor of dirty diapers. She claims her son's diapers were "fierce" and she couldn't get the smell to go away. She tried sealing them in one of those diaper pail sealing contraptions, she tried sprays, but nothing worked. Then she says she started thinking "inside the diaper." When none of the traditional methods worked, she created her own.
DiaperDust is made from activated charcoal and sodium bicarbonate. According to Regina, all you need to do is pour a little Diaper Dust into the soiled diaper, wrap it up and toss it in the trash. It won't smell at all. According to the many positive reviews, it really works. The combination of the charcoal and sodium bicarbonate neutralizes the odor.
The product is only available on the company website and on Amazon. They sell for $14.99 for an  8 ounce jar or two 4 ounce jars. The business is called A Parent Company, so they may have other ideas going forward. As of now, they offer no other products. The company likely wants a Shark to help get them into big box retail.
My Take on DiaperDust
As a father of five, I have a lot of experience with dirty diapers. Thankfully, those days are over. We had one of those diaper pails that hermetically sealed a dirty diaper. It worked OK, but there was still lingering odor. I would have bought this product back in the day.
Diapers are nasty. They live in landfills for years. Sealing them with more plastic just adds to the pollution problem. I like the fact that this product doesn't add to the pollution problem. I'm in.
Will Sharks Dust Up a Deal?
This could fall trap to the "it's a product, not a company" objection. I can hear Mark speaking those words as I type this. If customer acquisition costs are low, Mr. Wonderful could bid. If he makes an offer, expect a royalty component. I have no idea what Emma Grede will do.
That leaves Lori and Barbara. Lori doesn't have any kids, so she might not identify with the problem that's being solved. That could be enough for her to go out. Barbara has kids, so she knows about stinky diapers. If Diaper Dust gets a deal, Barbara or Kevin will be the Sharks to do it.