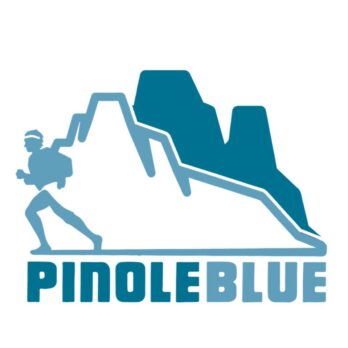 PinoleBlue founder Eddie Sandoval grew up eating pinole – blue corn – based foods. His family is from Chihuahua, Mexico, a mountainous region in Northern Mexico. It's the ancestral home of the Tarahumara, an ancient Aztec tribe who made bajiachi, a pinole based beer, to help increase their stamina. Modern athletes also use it for the same results.
In 2017, Eddie, being somewhat entrepreneurial, bought a half a ton of the stuff while studying business at Wichita State College. He made up blue corn drink mixes in his dorm room and started selling the concoctions locally. He went live online in July, 2017. Originally, he just sold the drink mixes, but now he's expanded the PinoleBlue line to include cookies, protein bites, and stone-ground tortillas. In fact, his tortillas are all hand made; the facility is one of the only stone ground hand made tortilla manufacturers in the USA.
He got a big boost when he won $10,000 in the Wichita State University's Shocker New Venture Competition. That allowed him to get out of the dorm room and into a real manufacturing facility. They make the drink mixes, which come in a variety of blends,  and other products there. Eddie thinks the company is poised for meteoric growth in the near future. The company has over 100,000 Tik Tok followers and now they want a Shark to guide them and take things to the next level.
My Take on PinoleBlue
I've eaten blue corn tortilla chips before, but I had no idea about blue corn's rejuvenating powers. In the USA, marathoners like to ingest it before a race and while training to get a natural boost. I imagine PinoleBlue's products taste good too. I'm particularly interested in the tortillas. At $28.50 for a 48 pack, they're affordable in comparison to regular tortillas and they're better for you. I will order some for our next taco night at home.
As for the other products, I might also try them too. When food products appear on the show, I'll generally try them at least once. There are some, like Just the Cheese and Snacklins that I buy regularly. I don't know if PinoleBlue will be a regular, but if it is, y'all will know!
Will Sharks Eat This Corn?
I'm guessing this company has decent sales and short marketing costs. They've thrown a lot of time and energy into social media and it appears on the surface it's paying off. Mr. Wonderful is big on customer acquisition costs and if PinoleBlue's is low, he could bid. If the play is getting into grocery stores (they're in some Whole Foods in Kansas already), Mr. Wonderful will likely not want to bid. Emma Grede is too new to the Tank for me to get a feel about how she views food business investments.
That leaves Barbara, Lori and Mark. All three invested in food businesses in the past. Lori and Mark in particular have invested specifically in several healthy foods businesses. If the numbers are good and the Sharks like the product, I'd expect a bid from at least one of them, possibly all three.