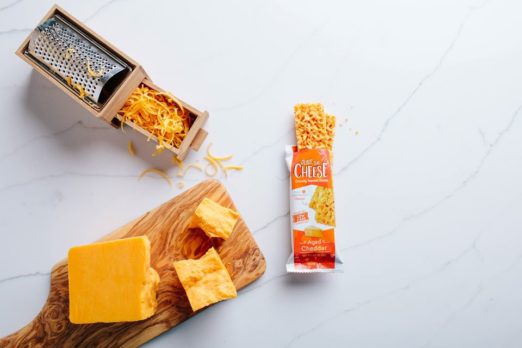 David Scharfman hopes for a deal for Just the Cheese, his crunchy cheese snack, in Shark Tank episode 1120. The product is not new, but rather a resurrection of a snack produced by his father many years ago. David always liked the inside part of his grilled cheese sandwiches and he liked them crispy. He challenged his dad to create a snack based on this idea and he did.
The Scharfman family owns Specialty Cheese Company, a Wisconsin based cheese business. David's dad made the snacks and the company successfully sold them for years. They were all the rage at the height of the Atkins Diet's popularity. David says the brand "faded away over time" as he grew up and moved to the east coast to work as a consultant.
One day in 2017, he and his wife were shopping and they bought a baked cheese snack to munch on. David knew Just the Cheese was a better product, so he called his dad to see if they could start making it again. He and his wife moved back to Wisconsin and re-started the business.
Now, Just the Cheese is widely available on Amazon and at thousands of stores nationwide. The product comes in bars and in "minis," bite sized crisps. A 16 pack of minis is $18.99 and a 12 pack of bars (two to a pack) is $23.88. They come in 5 flavors: White Cheddar, Wisconsin Cheddar, Grilled Cheese, Garlic and Chive and Jalapeno. Scharfman must have big sales as he's coming in with a $10 million valuation. Will a Shark think this is a sharp investment?
Company Information
Video

Posts about Just the Cheese on Shark Tank Blog
Just the Cheese Grilled Cheese Bars
Just the Cheese Shark Tank Recap
David is seeking $500,000 for 5% of his company. He tells his story and hands out samples. Lori actually remembers ordering the product from Amazon. All the Sharks enjoy their samples. They also like the numbers: $3.5 million in sales for 2018 and $3.7 million with four months left in 2019. The family self funded the business with a $1 million investment.
Margins are a bit thin as a two pack costs $0.95 and they sell for $1.27 per bar.Kevin jumps in and offers $500,000 for 5% but with a 20 cent royalty per bar in perpetuity. After some back and forth with Kevin, Lori offers$500,000 for 5% with a 15 cent royalty per bar until she recoups $750,000. Mark offers $500,000 for 15% straight equity.
David declines all three offers. He felt royalties would hurt his cash flow and he was adamant about not giving away more than 5% of his company.
Just the Cheese Shark Tank Update
The Shark Tank Blog constantly provides updates and follow-ups about entrepreneurs who have appeared on the Shark Tank TV show. This business continues to grow its retail distribution and is in just about every major grocery chain as well as on Amazon and in Target stores. David is also a co-packer for Slim Fast Snack Crisps. As of September, 2022, the company is still running and earning $4 million in annual revenue.
*editor's note: I LOVE this product and buy it regularly.