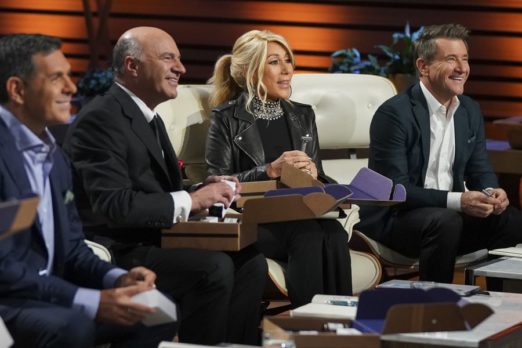 Guest Shark Daniel Lubetzky joins Mark, Kevin Lori and Robert in Shark Tank episode 1120. Together, they'll evaluate four new businesses seeking some Shark cash and partnership.
David Scharfman seeks a Shark to help him grow Just the Cheese, his 100% cheese bars and mini bites. Kent Yoshimura and Ryan Chen pitch Neuro, their gum and mints that deliver a nootropic enhanced boost. Shannon Valko and Sarah McDermott seek a Shark to invest in Seriously Slime, a kids' playspace franchise that features playing with and making slime. Zac and Jana McDaniel and Jessica Jacobs introduce First Saturday Lime, their patented, limestone based insect control powder. Which business gets a deal tonight?
Earlier in season 11, Matt Higgins invested in Tailgate N go, a modern day "chuck wagon" for tailgating. He invested $250,000 for 20% of the company. Tonight's update segment features the product on display at Super Bowl LIV which was held in Miami where the Dolphins (Higgin's team) play.
The Sharks
---
Daniel Lubetzky
Robert Herjavec
There are 28 Shark Tank Episodes for Season 11. This season features more appearances by "guest Sharks," including billionaire Katrina Lake – Founder of Stitch Fix, Rohan Oza – "Brand Messiah" and founder of Vitamin Water,
Daniel Lubetzky – Founder of KIND, Matt Higgins – Entrepreneur and Miami Dolphins Vice-Chairman,
Maria Sharapova – Tennis Pro and Founder of Sugarpova and Anne Wojcicki – Founder of 23andMe.  Casting is currently closed, but it never hurts to get a head start on season twelve! If you would like to appear on the show, check out our Auditions and Casting information.
Episode 1120 – The Shark Investors and Entrepreneurs
The Shark Tank Episode 1120 entrepreneurs will make their best pitch to the panel of five Shark investors who will use their own money if they choose to invest. The Shark Investors negotiate on the spot without any previous information, which differs from typical negotiations between venture capital investors and entrepreneurial start-ups.
Companies pitching the Shark Investors must go through a rigorous due diligence process before an on-air deal is completed. Shark Tank Blog follow ups help you keep track of the companies that end up successful and the ones that don't complete their deal.
Thank you for reading SharkTankBlog, the number one site for Entrepreneurs, Investors and Fans. Our content updates multiple times day, giving you the latest information on Episode 1120, Season 11, and all other seasons and episodes.
Episode 1120 Press Release
Shark Tank: Episode 1120 (4/10)
EXECUTIVE CHAIRMAN OF KIND, DANIEL LUBETZKY, RETURNS TO THE 'TANK' ON AN ALL-NEW EPISODE OF ABC'S 'SHARK TANK,' FRIDAY, APRIL 10
"Episode 1120" – An entrepreneur from Madison, Wisconsin, asks the Sharks for a lot of cheddar, hoping he hasn't bitten off more than he can chew, as he goes all in on his state's staple food. Can best friends from Los Angeles, California, convince the Sharks to invest in their energy product which keeps people awake and alert on the go? Moms from Evanston, Illinois, try to sell the Sharks on the business of slime with their play-driven environment for kids. Finally, a family of entrepreneurs from Okarche, Oklahoma, pitch their garden product designed to keep homes pest-free without risking harm to those inside on "Shark Tank," FRIDAY, APRIL 10 (8:00-9:01 p.m. EDT), on ABC. (TV-PG, L) Episodes can also be viewed the next day on demand and on Hulu.
In a "Shark Tank" update, the Johnson family joins investor Matt Higgins in Miami, Florida, during SuperBowl LIV to sell Tailgate N Go, a portable outdoor kitchen that packs up into a box and is perfect for tailgating.
The Sharks in this episode are Mark Cuban, Kevin O'Leary, Lori Greiner, Robert Herjavec and Guest Shark Daniel Lubetzky.