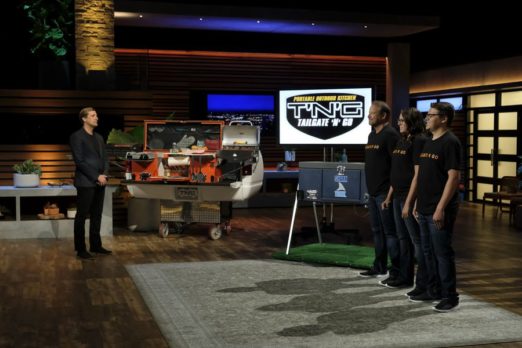 Ron, Taylor and Kobe Johnson seek a Shark to invest in TNG – Tailgate N Go – their portable kitchen in a box, in Shark Tank episode 1103. TNG is the result of a question Ron asked his daughter Taylor while she was preparing for a family cookout at a local lake. Taylor had all her tailgating supplies in six or seven different bags and she was a tad unorganized. That's when he asked "where's your chuck box?"
A chuck box is where campers store ALL their cooking supplies for preparing a meal on the go. It comes from the "chuck wagons" of the old west: the wagon that was the trail "kitchen" on a cattle drive. Modern day chuck boxes are generally designed to fit into an automobile or truck.
That question inspired Taylor to create TNG with her dad and brother, Kobe. After six prototypes, the family came up with the chuck box to end all chuck boxes. Each TNG model has cutting boards, condiment holders, a knife magnet, storage nets and racks and more. There are attachments that turn it into a complete outdoor kitchen, too. You can add a griddle, a grill, a single burner stove, small sink and a cooler to the TNG. There's even a swing out trailer hitch so you don't have to lift it and can access it from both sides.
There are two models: the TNG at $1650 and the Outlander at $1550. They also ell numerous accessories to trick out your TNG chuck box. They likely want a Shark to help them with production and distribution. Will a Shark want to dine on this modern chuck wagon?
Company Information
Video

Posts about TNG on Shark Tank Blog
Tailgate N Go – Cookout in Style
TNG Shark Tank Recap
Ron, Taylor and Kobe enter seeking $250,000 for 10% of their business. While the Sharks like the product, they don't like the low number of sales – only 100 units in a year and a half. The Johnsons want a Shark's help to increase their inventory so they can fulfill orders. They also want help with manufacturing so they can reduce their costs.
Kevin decides to make an offer. He offers a $250,000 loan at 10% for 10% equity, plus a $100 per unit royalty in perpetuity. The Johnsons politely decline that offer, turn their attention to Matt and ask him to reconsider. He's worried he won't get his money back, but after a lot of back and forth, he makes an offer. He offers $250,000 for 20% plus a $50 per unit royalty until he's repaid. The Johnsons accept!
TNG Shark Tank Update
The Shark Tank Blog constantly provides updates and follow-ups about entrepreneurs who have appeared on the Shark Tank TV show. The deal with  Matt Closed and the company continues to sell product. They are featured in an update segment in episode 1120. The segment was filmed at Super Bowl LIV in Miami. In the segment, they announced a licensing partnership with the NFL. As of July, 2021, they are still in business. After a slow year due to Covid-19, annual revenue is between $900,000 and $1 million.
In early 2022, the company experienced some supply chain issues and couldn't get some parts for their boxes. By August, 2022, they were back on track and secured licensing deals with the NCAA too. Revenue is still about $1 million per year.