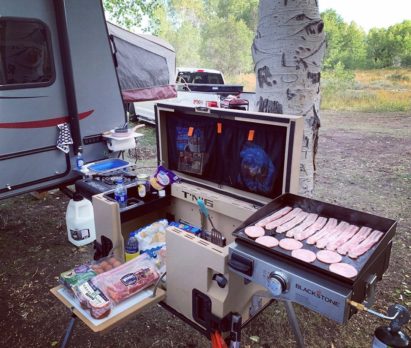 Tailgate N Go is like a modern day chuck  wagon. Back in the days of cattle drives, there was always a cowboy cook who rode the chuck wagon. He kept all the food and food preparation items on it and cooked for the cowboys at the end of the day. In modern times, the chuck box replaced the chuck wagon. Tailgate N Go is a chuck box on steroids.
Unlike the cowboy days, most folks don't take their food on cattle drives. They go camping or go cook out at sporting events. Taylor Johnson, who appears in Shark Tank episode 1103 with her dad, Ron and brother, Kobe, created Tailgate N Go to mimic the old chuck wagon. It has everything you need for cooking out whether you're out in the woods or at the stadium. The best part is, everything you need to cook out – including your food – fits in one box.
Each unit comes equipped with cutting boards, collapsible sink, condiment holders, a knife magnet, storage nets and racks. You can add a griddle, grill, single burner stove and a cooler too. When you open up the Tailgate N Go box, it's like having a full kitchen, but on the go. Hardcore tailgaters and campers will appreciate the quality. They'll need to shell out about $1600 to get one, more if you want it completely tricked out with all the options. You can even customize the color to match your car or truck or favorite sports team colors.
The business is a family affair. Ron sells heavy equipment, Taylor is a recent college grad with a degree in marketing and Kobe – who is the first deaf entrepreneur to appear in the Tank – just started college. Together, they hope to get a Shark to invest in their business. Will a Shark want to tailgate with this family?
My Take on Tailgate N Go
I used to do A LOT of camping. I'd strap a backpack on my back and disappear into the woods for a few days. Lugging a Tailgate N Go with me would have been impossible. This product is more conducive to the kind of camping I do now. When we go hiking, we set up a base camp and just carry water and a few supplies for the day on our backs. We don't go camping often – maybe once a year, but when we do, we go in style. As for tailgating at football games, since moving to Florida, I just don't do it anymore.
I currently use a Coleman Stove when we go camping. We also bring a HUGE cooler and a big box (my chuck box) full of food and associated utensils etc. The Tailgate N Go system would have been great back when I used to go to Patriots games 4-5 times a year. We brought everything, including couches, generators and TVs. We didn't skimp on the food, either. I can't see myself owning one today, but 15 years ago, I would have had one in my truck.
Will the Sharks Want to Tailgate?
Tailgate N Go is a very cool product. The problem is, it's very niche. It's geared towards the hardcore camper and/or tailgater. At $1,600+, it's for the serious enthusiast who will get the maximum utility out of it. The once a year camper isn't going to buy this.
That's the problem the Sharks will see. Daymond does some hunting, so he could be a customer, but I don't see him investing. This is so far out of Lori's wheelhouse, she won't invest. I think Mark and Kevin sit out too. The only hope I see is Matt Higgins. As the vice chairman of the Dolphins, he might see a good niche in the sports market. This season, I don't think a lot of Dolphins fans are fired up about anything, let alone tailgating! I think the Sharks will like Tailgate N Go, but I don't think they invest.