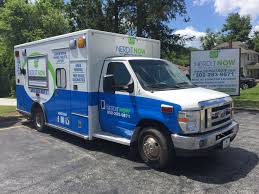 Nerd It Now founder Markevis Gideon was always a go-getter. He was that kid in his Wilmington, Delaware neighborhood who shoveled snow and sold candy door-to-door to make a buck when he was young. As he got older, he continued his entrepreneurial ways. In college he sold cars out of the Widener University student parking lot, sold textbooks online and repaired computers. The latter endeavor would change his life.
After living abroad in China, Markevis returned to the states in 2015 and needed to find a new venture. He turned to one of his old college ventures: computer and cell phone repair. He started off in his home and grew so quickly, he needed a storefront within a year. He recruited college friends Jonathan Hoxter and Jake Voorhees and the business continued to grow. When they won a $9,000 grant from the University of Delaware, they bought an old ambulance and converted it to the Nerd It now Mobile.
With a storefront and a mobile repair vehicle, Nerd It Now really took off. They were able to bring the shop to the customer who didn't have time to get out to the Nerd It Now store. They also opened a kiosk where people could drop off electronics for repair. Through it all, Gideon wanted to give back to the community, so he founded the Nerd It Now Foundation which donates computers to nonprofit organizations in Wilmington, Philadelphia and Africa. His business plan is to open more drop off kiosks in Wilmington, then expand to Philly and Baltimore. He wants a Shark to help fuel his expansion.
My Take on Nerd It Now
Getting a cell phone or a computer repaired is something almost everyone will have to do at one time or another. I recently used a local "mom and pop" computer repair place to fix a connection on an external hard drive. There are a lot of computer repair operations – many of them mom and pop type shops. There's also the big boys like the Geek Squad.
Gideon wants to compete with these businesses and I think there's room for him in the marketplace. A well branded, convenience driven service like Nerd It Now will find itself inundated with customers, particularly in large urban areas. The way they do business will earn them both recognition and market share. I think he has a solid business, I'm in.
Are Sharks Feeling Nerdy?
Gideon is the type of entrepreneur the Sharks LOVE. He's driven, passionate about his business and smart. The company is profitable, too. The problem he'll encounter with the Sharks is scalability. This is a good, local business. It can work with Gideon's current expansion plans, too. The Sharks will need to get it on a nationwide basis to make it worth their while. It may be a bit "too early" for Nerd It now.
Lori won't bid here, neither will Daymond or Matt Higgins. Mr. Wonderful will likely start with the "big boys will crush you like a cockroach" talk. That leaves Mark. MArk might take a flyer due to Gideon's passion, but I think the scalability issue will keep him on the sidelines.