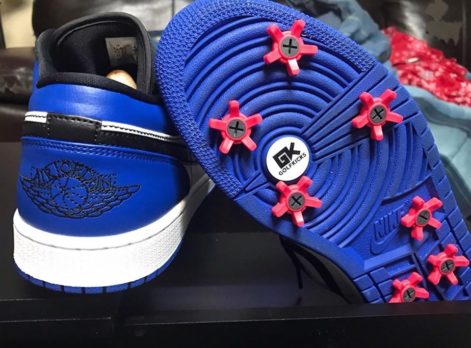 Golf Kicks creators Tyler Stuart and John Krosky wanted to wear their favorite sneakers on the golf course, but they didn't have spikes on their sneakers. That led them to some experimentation and what would ultimately become Golf Kicks, the tool that turns any sneaker into golf shoes. When they got the idea, they tinkered around with several prototypes. As soon as they had a workable model, they did a Kickstarter to raise funds for their first batch of product.
That was early 2019. Now, the guys are pitching their invention in the Shark Tank. Essentially, their screw on cleats are just that: cleats that screw into the sole of your sneakers. While golf shoes have come a long way as far as design goes in the past few years, they don't compare to many of the wild designs sneakers have. With Golf KLicks, your favorite sneakers can be cool golf shoes.
The guys sell a kit for $29 that has 20 cleats (8 per sneaker for adult males is a typical number needed), a Sharpie for marking the holes, a 5/32 drill bit and a phillips head screw driver. Simply drill some primer holes into the soles of your sneakers and screw in the cleats, then you're good to go. They've only been in business a few months, so sales likely won't be big. They probably want a Shark to help them expand quickly via the Shark Tank Effect.
My Take on Golf Kicks
I used to play a fair amount of golf until I messed up my back about 20 years ago. I still have a full set of cubs and golf shoes that are in decent condition. The last time I golfed was about a year ago. Prior to that it was five or six years since I hit the links. Last year's outing was not pretty. I hit two houses – with one shot!
It'll probably be at least a few years until I golf again, but my daughter is taking it up. I think she wants to be on the High School Golf Team. I wouldn't be a customer, but she might. Golf Shoes, like sneakers, have a big price range: anywhere from $30 to $200 and up. I don't know if I'd put Golf Kicks on a pair of $1890 Air Jordans, but there are people out there who would. I see this as a product for folks looking for golf shoes with a different look. It's not for me though.
Will Sharks Get a Kick out of this Business?
I don't know the golf habits of the Sharks, but I'm sure they've all played a few times at one point or another. Since this business is so young, the guys probably want a lot of help. The only thing that gets them a deal is if they have solid sales. This is another niche product and niche products generally don't fare well in the Tank.
I don't have a good read on which Shark might buy into this product. I can hear Mark calling it a "product, not a business," so I don't think he's in. This isn't something Lori would seem to have a lot of interest in, so she's probably out too. The other three may or may not be interested, I just can't really make a prediction. Good sales numbers will help, but ultimately, I think they'll leave with no deal.