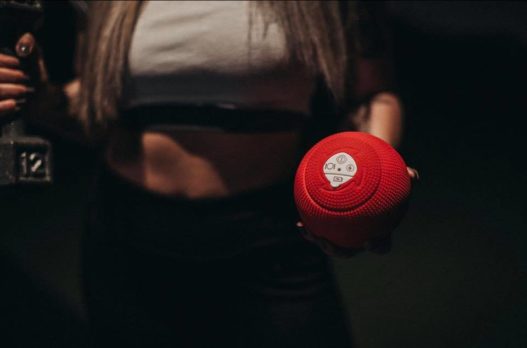 Jonothan DiPeri, Shaquille Walker and Jared Ward hope to massage the Sharks into investing in MyoStorm, their company that makes the Meteor Massage Ball, in Shark Tank episode 1103. Walker and DiPeri founded the business in early 2018. The pair met in England while working as missionaries prior to attending college. They always threw ideas around for inventions and hoped to work together someday. The Meteor was one of those inventions.
The MyoStorm Meteor is a massage ball. It has heat, vibration and pressure to relieve aches and pains. While they got the original idea back in England, it wasn't until DiPeri attend Brigham Young and studied mechanical engineering that it began to tak shape. DiPeri was a research assistant on a study that measured how mechanical vibrations effect the human body. This is what led him to take one of his ideas and turn it into a real product.
With the help of Walker, who works for Bain and Company – a business consulting firm – they developed the Meteor with the help of mechanical engineers and exercise scientists. Jared Ward, the third principle pitching MyoStorm in episode 1103, is a former Olympian marathoner who still runs professionally. They have a lot of athlete endorsements, too. It's clear the Myo Storm guys have the business side of things figured out. They need a Shark's help with the manufacturing and cash flow side. Will a Shark have a ball with Myo Storm?
My Take on MyoStorm
I'm by no means anywhere close to a professional athlete, but I do work out 5-6 times a week. I get my fair share of aches and pains, too. We have a vibrating massager at our house, but the Meteor looks very interesting to me. I like the way the ball allows you to massage yourself – almost like a roller. The fact that so many athletes endorse it tells me it's the real deal, too.
This is probably something I'd like to have. As I get older, I find I need more massages and my wife isn't always obliging. A tool like The Meteor would fit the bill for me. I am in.
Will Sharks Feel The Heat?
My guess is this is the big winner on tonight's show. While $159.00 is a bit pricey for products Lori likes to pitch, I think she may have interest. Mark and Matt, both involved with professional sports, will see the value of this for their athletes. Since MyoStorm did their development with doctors, they have a lot of credibility with the likes of Mark and Matt.
Several colleges and many professional athletes already use The Meteor as part of their training and therapy regimen. Mark and Matt could take that to the next level and really get the product out there. In the PR photos for this episode, Mark is trying the Meteor out onstage. I'm thinking that if the numbers work and the guys are credible, Mark or Matt (or both of them together) will bid on this.