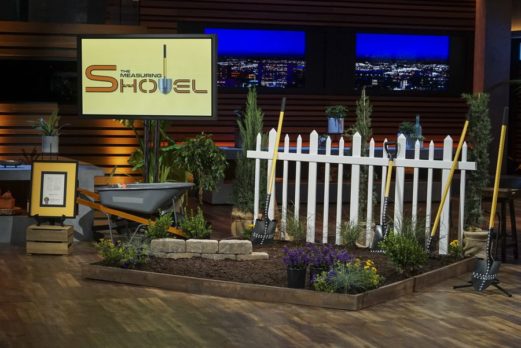 13 year old Maddox Prichard hopes the Sharks invest in his Measuring Shovel when he pitches it in Shark Tank episode 1107. Like all successful inventors, Maddox saw a problem and sought to solve it. When he was ten years old, he was into gardening with his grandmother and mom. When ever they installed new plantings, they'd break out the tape measure to make sure their holes were deep enough, wide enough and far enough apart to assure successful transplanting. One day, he got some duct tape, a ruler and a marker and made measurement lines for a shovel so the same tool used to dig the hole could also measure the hole. Thus the Measuring Shovel was born.
Maddox knew a little bit about shovels: his father and grandfather import and sell special shovels used in tree plantings as part of their nursery business. They thought Maddox was on to something and so did a lot of other folks. When he was in the fourth grade, he entered the Measuring Shovel in Middle Tennessee State University's "Invention Convention" for kids. He won! That earned him a trip to the National Invention Convention at the United States Patent Office. Wouldn't you know, he won again! The Measuring Shovel placed first in the Household Organization and Tools Division. Stanley Black and Decker sponsored the National show and gave his invention high praise.
Luckily, Maddox's middle school principle encouraged him to get a patent, which he did (with some help from his parents). The shovel itself is like any other shovel, except it has ruler markings on the blade and handle that allow the user to easily measure both depth and distances. Maddox has a cool invention, but he's not manufacturing it or selling it. He wants a Shark's help licensing it (maybe to a company like Stanley Black and Decker). If he does a deal with a Shark, he wants to make enough money to buy his own farm.  Will a Shark dig this idea and invest?
My Take on The Measuring Shovel
This is one of those "why didn't I think of that" ideas. Sometimes the simplest things are the most overlooked. Maddox wasn't the first to patent the idea of a shovel with measurement marks though. There are several others. Without getting into the fineries of patent law, Maddox's shovel was unique enough to earn a patent. Now he just has to sell them.
Maddox indicates in various media reports that he'd like to get "really rich" inventing things. He'll need to sell shovels to do that, which is why he's in the Tank. I think it's a clever idea. If I were in the market for a new shovel, I'd buy this one – it's a value add shovel.
Do the Sharks Dig In?
Maddox is going to leave the Tank with a deal. He has his patent and all he needs is someone to help him execute the idea into a product. This would be perfect for licensing. Any one of the Sharks could help with this very easily, so it's going to come down to which Shark offers the best deal.
Expect Mr. Wonderful to make an offer that involves royalties as well as licensing. He won't win the day though. I'm thinking this has all the makings of a Mark and Lori joint venture. They both work with many young entrepreneurs and they both bring complimentary strengths to this product. Look for those two Sharks to make an offer.