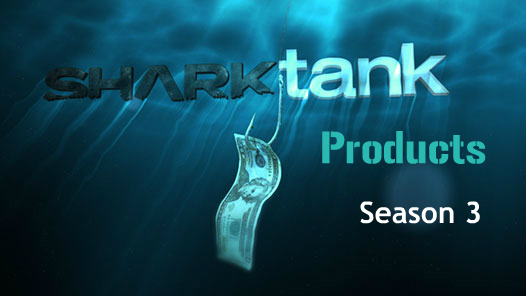 Season 3 Products As Seen on Shark Tank
Alphabetical list of all season 3 products.
Billy Blanks Jr.'s Dance With Me
Blondie's Cookies
Boot Illusions
Brewer's Cow Ice Cream
Business Ghost
Cab 20

Chord Buddy
Clean Bottle
Copa Di Vino
Cougar Energy

Debbie Brooks Handbags
EZ VIP
Esso Watches
Five-Minute Furniture
GoGo Gear
His Vegas Magic Show
I Want to Draw a Cat for You

Invis-A-Rack
Kisstixx
Ledge Pillow
Liquid Money
Litter

Lollacup
M3 Girl Designs
Miso Media
Mix Bikini
My Wonderful Life
Nail Pak

Nardo's Natural
Nitroforce Industries

Puppy Cake
ReadeREST
Remyxx
Rent-a-Grandma
Salespreneur
Show No
Skyride

TEC – ScottEvest
Tail Lightz
Talbott Teas
The Ave
The Heat Helper
The Last Lid
The Original Profender
The Painted Pretzel

The Smart Baker
The Sullivan Generator
The Swilt

Tower Paddle Boards
Trimi Tanks

UniKey Technologies (now Kwikset)
Viewsport
Villy Custom

Vinamor
Wild Squirrel Nut Butter (Now Wild Friends)

The Season 3 products and businesses that appeared on ABC's Shark Tank feature some of the best Shark Tank Success stories in the history of the show. All season 3 products are listed on this page in alphabetical order, from A-Z. Many season 3 products can be purchased from Amazon with NO SHIPPING COSTS!
Shark Tank entrepreneurs from every season count on Amazon to provide the trust, fulfillment, and low or no cost shipping today's online shoppers demand. If a season 3 product is listed on Amazon, you can be sure the business is sound and the entrepreneur values good fulfillment services.
Do you have a Shark Tank fan on your gift list? An Amazon Gift Card is a great way to let them choose their favorite Shark Tank Products for themselves.
There are season 3 products that can be found on direct websites, too. Some Shark Tank products are available exclusively from an individual businesses' site. Some businesses choose not to list on Amazon so their brand won't be eroded by discount wholesalers. This is a valid reason for selling direct and in no way should be considered a poor reflection on an individual company.
For great inside information on the Shark Tank on ABC, be sure to visit The Shark Tank Blog.