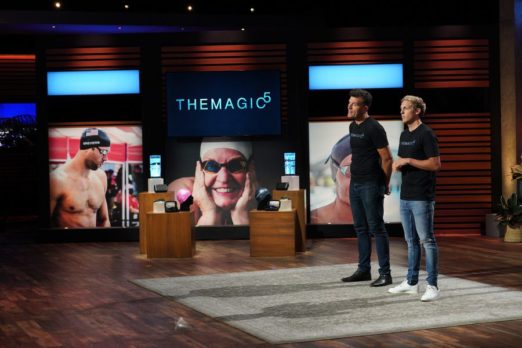 Bo Habber and his nephew, Rasmus Barfred, hope to find a perfect fit for The Magic 5, their custom made swim goggles, in Shark Tank episode 1303. Both men are avid swimmers and triathletes. A third partner, Nicholas Granet – a pro swimmer for the Danish National Team, does not appear with them. All three hail from Denmark where they have strong technology backgrounds. The idea started when Bo became frustrated by his uncomfortable, leaky goggles. He wanted to do something about it, so they travelled around the world and learned how to make swim goggles.
The secret sauce behind these custom goggles is the technology. Customers simply download their app and scan their face – sort of like taking a selfie. Their tech then designs individually fitted goggle – this lets the company make goggles that are made just for you. As they like to say: "One size shall fit only one." They got their business started with a successful Kickstarter campaign the raised $$100,589 back in November, 2017. They had backers scan their faces and shipped product in February, 2018 from their newly constructed production facility in Charlotte, North Carolina. Now, the turn around time is only five days from scan to shipping.
What about the goggles?
The goggles themselves have unique features. Because of the scan, they'll fit the curvature of your face. The temples guide the goggle so their stabilized when you enter the water. With the rigid nose bridge that fits only you, the goggles are further stabilized. The goggle glass has the best anti fogging coating and comes in mirrored for outdoor swimming and comes in multiple color options. The glass is curved to make them more hydrodynamic in the water too. A pair of custom goggles costs $55-$65 depending on the style. You can also buy them in bundles to save. All goggles come with a money back guarantee. These guys likely want cash to amp up their manufacturing capacity. Will a Shark want to swim with this business?
Company Information
Video

Posts about The Magic 5 on Shark Tank Blog
The Magic 5 – Custom Swim Goggles
The Magic 5 Shark Tank Recap
Bo and Rasmus enter the Shark Tank seeking $500,000 for 2.5% of their business. They explain the problems with conventional goggles and how they make theirs. They want all swimmers to have their goggles. The Sharks look at their samples (not customized for them) and some are amazed to learn that swim goggles are a $2.2 billion market. Nirav and Robert are not.
To date, they have 40,000 customers and $3 million in total sales since 2018. They've been growing at a 3X yearly rate. Robert thinks the idea is logical. Bo explains he first got the idea while on vacation and he forgot his goggles. He couldn't find any that fit. When Kevin asks why they aren't priced higher, Bo says they wanted to be in the middle of the price range for premium goggles.
Let's Talk Money
They cost $14 to make and sell for $55. Customer acquisition cost is $24. So far, they raised $1.5 million at a $9 million valuation. The sales break down is as follows: 2018 was $180,000; 2019 was $370,000, 2020 was $1.2 million and so far this year (summer of 2021) it is $1.5 million. They moved to the USA because the swimming market is bigger. Some of their parts come from China and the customization is done at the Charlotte facility. They have a patent on their fitting algorithm. To assemble everything, they use an advanced robotics company running on their software.
While they are telling the Sharks all this, Kevin is whispering in Nirav's ear. Mark speaks up and says they aren't a goggle company, they are a robotics company. He offers $500,000 for 7.5%. Kevin and NIrav offer $500,000 for 5 % plus a $3 royalty on each unit sold until they reach $1.5 million. Robert says he spent 18 years watching his daughter swim, he offers $500,000 for 5%. Lori offers to join Mark or Robert saying she brings a sales component to their tech backgrounds. Robert says he'll go with Lori, then Kevin and Nirav drop to 4% equity. Next, Lori and Robert go to 6%, then Robert says he'll stay at 5% without Lori. Kevin and Nirav then drop to 3%. Robert says he wants this deal and offers $1 million for 6.5%. They accept.
The Magic 5 Shark Tank Update
The Shark Tank Blog constantly provides updates and follow-ups about entrepreneurs who have appeared on the Shark Tank TV show. In the immediate aftermath of the show, they said they were looking to expand into gas masks, diving masks, face masks and glasses. Apparently, after the cameras stopped rolling, Mark approached Robert about getting in on the deal. Bo Haaber told a Charlotte TV reporter that Mark and Robert each invested $500,000 for 3.25% of the business.
As of August, 2022, reported sales for 2021 were $2.6 million. The company is currently valued at $15 million. They get an update segment in episode 1405. One day before the update segment was scheduled to air, the company launched a Kickstarter to pre sell their new custom fit Oculus Interface goggles. In the update segment, they say their web traffic increased by 1000%. They made $45,000 in revenue in the first 24 hours after airing. Since first appearing, they sold 85,000 goggles and did $4.1 million in sales. Robert and Mark tell how Mark approached Robert and got in on the deal.
Mark is giving them strategic guidance and Robert has been working on customer acquisition. The company is moving into other products and they talk about the new Oculus goggles. They're also partnering with Canyon Bicycles to offer customized bikes. Mark says the entrepreneurs are very focused and single minded about their business. Robert says they live and breathe their product and company.
As of August, 2023, they are projecting over $5 million in sales for the year.
I will update this page as more information becomes available.