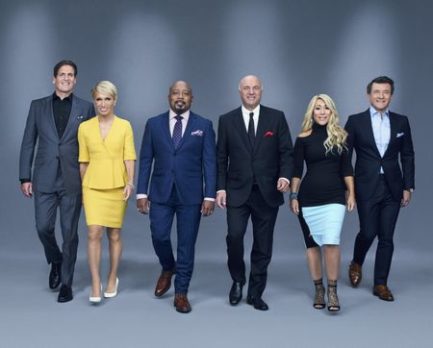 Shark Tank Season 13 premiers Friday, October 8 at 8 PM eastern time. The 13th season of the Emmy award winning reality show features the six original Sharks: Mark, Daymond Kevin, Lori, Barbara and Robert. Four new Guest Sharks will join the panel in season 13. They are: Kevin Hart, Actor, Investor and Entrepreneur; Emma Grede, CEO and Co-Founder of Good American and Founding Partner of SKIMS; Peter Jones, Dragon on BBC's Dragon's Den; and Nirav Tolia, Co-Founder of Nextdoor. Also Guest Shark Daniel Lubetzky returns.
As in seasons past, in season 13, the Sharks will hear pitches from aspiring entrepreneurs to grow, start or even save their businesses. There will be some brilliant businesses, some complete train wrecks and tear-jerking moments. The Sharks, when they see a business or entrepreneur they like, will battle it out to see who gets to invest. We'll also see update segments on past successful Shark Tank businesses, new "Shark profiles," and business related events the Sharks attend.
Shark Tank History
Shark Tank is based on the Japanese show called Dragon's Den, which aired from 2001-2004. The UK version of Dragon's Den has been on the air since 2005. All told, there are about 30 versions of the show in production in countries around the world, including China. Shark Tank first aired in the USA in August, 2009 and has grown in popularity since.
Season 13 Investors:
Season 13 Episodes
Episodes will be added as they are announced and aired.
Update Segment – Emma Grede Background segment
Update Segment – Peter Jones Background segment
Update Segment – Background Segment on Nirav Tolia
Update Segment – Kevin Hart Background Segment
Episode 1320 – 3/18/2022 – 8 PM
Episode 1313 – Season 13 Finale – 5/20/2022 – 8 PM
Update Segment – Season 13 Highlights