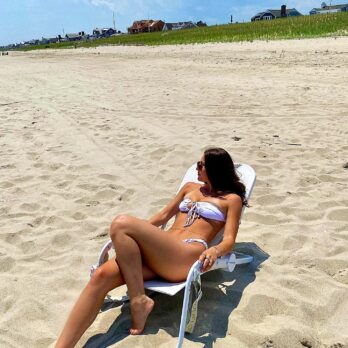 Husband and wife entrepreneurs Leslie Hsu and Greg Besner pitch Sunflow, their comfortable, easy to carry beach chair, in Shark Tank episode 1320. Leslie was a fashion designer and fashion entrepreneur, and Greg is a serial entrepreneur and adjunct professor at NYU Stern School of Business. Leslie still runs three other companies and Greg is still professing, but their business is their number one prority.
They love the beach and got the idea for a simpler beach chair solution while packing up their beach stuff on a family vacation. The process was cumbersome to say the least. Leslie wanted to make a friendlier way to pack up for the beach, so she set out to make Sunflow. In 2018, they had everything ready to go after three years designing the product. The result is an easy to open, reclining beach chair that comes in a variety of colors. They have six US patents and 7 international patents.
Each chair is durable and high quality and costs $198. There are a number of attachments like an SPF 50 sunshade, drink holder, dry bag and sunglasses holder. Accessories include a Turkish blanket, towels, water bottles, insulated wine tumblers, beach bags and more. The couple likely wants a Shark to help them gain broader distribution and with marketing.
Company Information
Video

Posts about Sunflow on Shark Tank Blog
Sunflow Shark Tank Recap
Leslie and Greg enter the Shark Tank seeking $1 million for 6%  equity in their business. They clumsily open some old school beach chairs then open a Sunflow. They show the accessories and the Sharks are impressed. Next, the Sharks examine their samples and Leslie talks about past ventures.
Sales in 13.5 months are $2.9 million . They expect to finish 2022 with 409% growth. All sales are direct to consumer. Chairs sell for $198 and they cost $70 landed. The drink holder has a 78% margin. Leslie talks about her dad and his entrepreneurial ventures – he passed away a week before the segment taped.
Kevin questions the valuation and Leslie starts talking about coming out with a lounger and a table. Daniel likes their story. He offers $1 million for 22.5%. Greg says this will be the most successful Shark Tank business; he says it will be a $100 million company. Greg says he wants a Shark that's along for the ride. Daniel asks for a counter offer and when Greg doesn't counter he goes out. Mark goes out next. Barbara thinks they're over confident; she's out. Lori goes out next.
After a break, Mr. Wonderful says he's struggling with the valuation. He offers $1 million for 4% equity plus a $5 per chair royalty until he recoups $2 million. Greg offers the same deal with the royalty to $1 million. Kevin counters with $1 million for 6% plus the royalty until he recoups $1 million. Greg counters with $1 million for 5% plus the royalty until Kevin recoups $1 million and Kevin says "done!"
Sunflow Shark Tank Update
The Shark Tank Blog constantly provides updates and follow-ups about entrepreneurs who have appeared on the Shark Tank TV show. Once an episode has aired, we monitor the progress of the businesses featured, whether they receive funding or not and report on their progress.
On show night, Kevin Tweeted:
Done! What can I say, I love ambitious entrepreneurs. We're going to blow this one out the water.
Unfortunately, the deal with Kevin fell through a few weeks after taping the episode. The company raised $3.5 million from its other investors instead. The Shark Tank Blog will follow-up on Sunflow & Leslie Hsu and Greg Besner as more details become available.