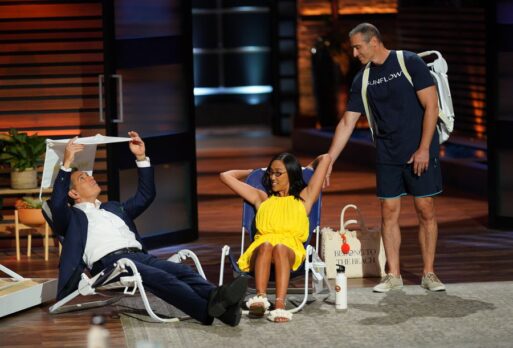 Leslie Hsu and Greg Besner first got the idea for Sun Flow beach chairs while on a beach vacation. They were packing up for a trip to the beach in their rental and things were disorganized and cumbersome. Leslie, a designer and serial entrepreneur, got to designing a beach chair and accessories that would suit her needs. Her husband, Greg, decided to join her in the venture. Greg is also a professor at the NYU Stern School of Business.
They started selling their chairs in 2018. They're easy to open, comfy and stylish. You can attach a 50 SPF sunshade, drink holder, dry bag and sunglasses holder too. They sell on their website and through pop-up stores in malls. The chairs come in a variety of colors and patterns. When they debuted the chairs in a pop up store in the Hamptons in June, 2020, they sold out.
At $196, they are pricey for a beach chair. If you trick your chair out with the aforementioned accessories, the price comes to $296. That's a lot of money for a beach chair, but it's built to last, so it might be the last one you buy. At over 9 pounds, it's built with durable parts; in other words it's built to last. Reviews liken the feel of the chair to a high end poolside lounger. They have sales, so they likely want a Shark's help with distribution and manufacturing.
My Take on Sun Flow
I can walk to the beach from my house and I usually bring my "soccer dad" chair. The price of Sun Flow sets me back a bit, but I am willing to pay extra for quality. In the video explanation of how to open and close it, it looks easy. I had a Tommy Bahama beach chair that had a storage pocket. It was easy to open, but a pain in the neck to close. You had to lay it down on its back in the sand to push it closed. It got all sandy and it was a mess.
If it lasts say ten years, it's worth it. I only get a couple of years out of my soccer dad chairs, so I have to get new ones all the time. The next time I need a new chair, I may give it a go.
Will Sharks Have a Seat?
In the photo above you can see Daniel Lubetzky trying the chair on for size. Does this mean he'll make an offer? It's possible. In season 11, he invested in Yellowleaf Hammocks, a high-end hammock business. We actually own one, we got it for Christmas from our daughter last year. Sun Flow is aimed at the same market, but it's a different product. Perhaps there's some synergy there.
As for the other Sharks, I think the price could throw them off. Barbara has a beach house, so I can here her going out but saying she'll "be a customer." Price will likely turn Lori off. As for Mark, I don't think he  bids. Mr. Wonderful could craft a royalty type offer, but I don't think they'll get a deal.