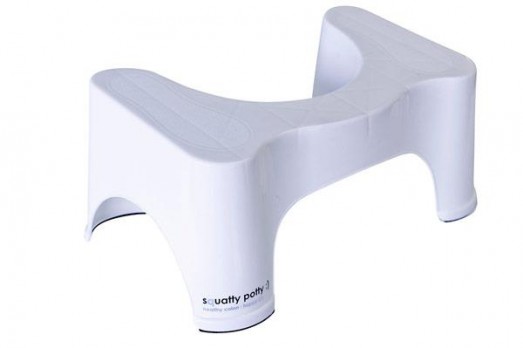 Bobby and Judy Edwards pitch Squatty Potty, a foot stool to correct your posture while pooping, in Shark Tank episode 610. Their company mission statement, "to change the way we poop, one 'stool' at a time," reads like a bad pun, but their Squatty Potty is serious business.
While seeking a solution for colon problems and relief for hemorrhoid sufferers, Bobby found that the human body is naturally designed to squat while pooping. The traditional position modern toilets put people in causes straining, which leads to hemorrhoids and other colon related problems. When he sought a solution, he found expensive and unwieldy options, so he invented the Squatty Potty.
Essentially, the Squatty Potty is a contoured footstool that allows the user to place their feet on it while sitting on the potty. With your feet on the stool, you're placed in the natural, squatting position. Once accustomed to the Squatty Potty's pooping posture, things get moving a lot easier with far less strain.
There is some scientific research to back Edwards' claims and people are buying into the Squatty Potty. They sold over 10,000 units in 2012 and are available globally. You can also find Squatty Potty in all Bed Bath & Beyond stores in the USA and Canada. The Squatty Potty comes in plastic or bamboo and works with any toilet. The company also sells a bidet attachment and a variety of colon care products.
Squatty Potty is likely looking for cash to fund its rapid growth. Will one of the Sharks "get off the pot" and invest?
Squatty Potty Shark Tank Recap
Bobby and Judy enter seeking $350K for 5% of their "simple product that changes lives." They explain how the sitting position on a standard toilet exacerbates colon problems. The Squatting Potty puts people in the proper squatting position on a standard toilet.
Mark wants to know how they squeeze out a profit. They say they did $1 million their first year, $2.2 million the second year, and $2.7 million in the first half of 2014. Robert says "HOLY CRAP!" They sell them for $25 and make them for $4.50. They want to use the money to get FDA certification for a medical device and to fund some of the many opportunities they have. Howard Stern even endorses it.
Kevin says it's the first crappy investment he actually likes. They explain they'll make $1 million on $7 million in sales. They want a Shark to help them ramp up manufacturing and "open doors." Kevin offers $350K for 10%, Bobby balks. Then Robert goes out. Bobby counters Kevin with $700 for 10%. Lori says she needs at least 10% to make it worthwhile and offers $350K for 10%. Bobby counters with $500K for 10%, Lori says no.
Mark thinks Bobby is talking out of both sides of his mouth and goes out. Barbara likes Judy, but doesn't trust Bobby; she's out. After some hemming and hawing, they accept Lori's offer.
RESULT: DEAL with Lori $350K for 10%
Squatty Potty Shark Tank Update
After making the deal with Lori, Squatty Potty sales soared. The business has an update segment in episode 625 where we'll see just how well they are doing.
In the update, they reveal their sales have skyrocketed. They sold $12 million since airing on the show. Squatty Potty is now in EVERY Bed Bath and Beyond nationwide with a floor to ceiling display. Lori, Judy, and Bobby exclaim "IT'S POTTY TIME!"
For a more in-depth update, see Beyond the Tank episode 111.
The company gets another update in episode 1112. In the update, they reveal they've done $250 million in lifetime sales.
In May, 2021, the business was acquired for $31.1 million by Aterian, a publicly traded consumer products company. As of November, 2022, the business has $222 million in lifetime sales and has over 20 new products in development.
Posts About Squatty Potty on Shark Tank Blog
Company Information
Video