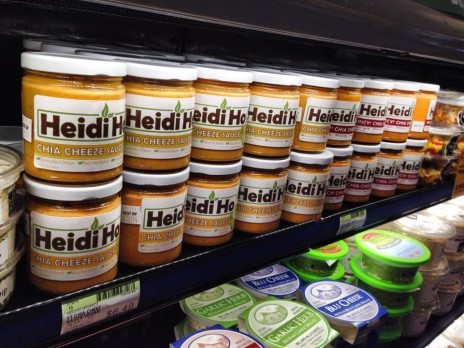 Vegan Chef Heidi Lovig hopes the Sharks like Heidi Ho, her line of vegan cheeses, when she pitches her company in episode 610. Lovig is a Cordon Bleu trained chef who learned vegan chef skills in Hawaii. She believes in locally sourced, sustainable, organic food sources for her cooking, and her Heidi Ho cheese.
She got the idea for making vegan cheese when she was brought in as a vegan consultant in a Portland area restaurant. The cheese offerings were loaded with starches and oil and weren't very tasty either. She set out to create vegan cheeses that were all natural and tasted good. The result was the Heidi Ho line of cheeses: Chia Cheeze Sauce, Spicy Chia Cheeze, Feta Crumbles, Smoked Gouda, and Monterrey Jack. All Heidi Ho cheeses come with no soy, gluten, dairy, or corn. They're good for vegans and folks who are lactose intolerant and/or gluten-free.
Heidi Ho cheeses are currently available in a couple hundred Whole Foods markets out west and many independent health and natural food stores. Like any food entrepreneur, Ms. Lovig is likely looking for help with wider distribution and cash to fuel growth.
Will the Sharks spread some cash around and invest?
Heidi Ho Shark Tank Recap
Heidi enters seeking $125K for 20% of her business. She explains the problem of "real" cheese. Out comes the Heidi Ho and Heidi explains how she makes it. She hands some out and the Sharks LOVE it. Lori asks where she sells it and Heidi explains her Whole Foods strategy. Heidi's sold $140K the past 12 months. Heidi is on the edge of blowing up and needs a Shark to help her get big.
She shows how she changed her diet after growing up as an overweight kid. Robert asks why it isn't just a vegan product. Kevin likes real cheese, Mark loves his, too. Lori loves it so much she offers $125K for 30% and she'll help with packaging. Kevin goes out, but Lori says Heidi can listen to other offers at her own risk. Heidi is perplexed as they take a dramatic commercial break.
After the break, Mark, Barbara, and Robert go out and Heidi shouts "we have a deal!"
RESULT: DEAL with Lori Grenier for $125K for 30%
Heidi Ho Shark Tank Update
After doing the deal with Lori, Heidi Ho got a lot more retail distribution. Once people taste the product, they rave! Heid gets an update segment in episode 626, so we'll see what else she's been up to.
In the 12 months leading up to Shark Tank, Heidi Ho's sales were $140,000. In the four months since airing, sales have skyrocketed to $750,000. Heidi's shown doing an in store demonstration and Lori shows up. Lori likes Heidi's social consciousness and work ethic. She explains the product in 500+ Whole Foods stores – and growing!
Heidi added to the line with Beer Cheese, Smoky Bourbon Dip and Queso. She has her cheese in Costco in the Pacific northwest. The company does private label products too. Blue Horizon, a company that invests in plant based food businesses(including several other Shark Tank companies), invested an undisclosed amount in the company. As of November, 2022, the company website is down. Heidi still lists the business as "open" on her LinkedIn page but her Twitter is down and her Facebook Page is blank. To date, the company had $8 million in lifetime revenue.
Heidi shut the company down in December, 2022 to focus on another venture, Red Rug Realty, LLC, a business that owns and rents rental properties and conducts real estate rental arbitrage.
Posts About Heidi Ho on Shark Tank Blog
Company Information
Video