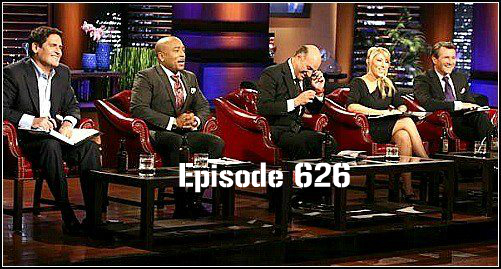 Shark Tank episode 626 has four new businesses seeking the backing of one of the Shark investors. Ethan Tucker, with a little help from singer Pat Boone, seeks and investment for Zero Pollution Motors, a company that builds cars that run on compressed air. Shauna Sledge enlists the help of a caveman to introduce The Paleo Diet Foods, snack bars based on the concept that the nutritional needs of modern humans remain best adapted to the diet of their Paleolithic ancestors. Konrad Billetz and Kevin Habich pitch Frameri, an affordable line of interchangeable frames for glasses. Greg Myerson fishes for Shark with The World Record Striper Company, his company that makes a fishing lure he used to catch the world's biggest striped bass.
Which business leaves the Tank with an investment and a Shark for a partner?
Chef Heidi Lovig struck a deal with Lori for $125,000 for 30% of her vegan cheese business in episode 610. Lori pledged to help with new packaging and distribution. In this update segment, we'll see how Heidi Ho is doing since the deal was made.
There are 28 Shark Tank Episodes for Season 6. This season features two new Sharks and a host of other surprises. Casting is currently closed, but it never hurts to get a head start on season seven! If you would like to appear on the show, check out our Auditions and Casting information.
Episode 626 – The Shark Investors and Entrepreneurs
The Shark Tank Episode 626 entrepreneurs will make their best pitch to the panel of five Shark investors who will use their own money if they choose to invest. The Shark Investors negotiate on the spot without any previous information, which differs from typical negotiations between venture capital investors and entrepreneurial start-ups.
Companies pitching the Shark Investors must go through a rigorous due diligence process before an on-air deal is completed. Shark Tank Blog follow ups help you keep track of the companies that end up successful and the ones that don't complete their deal.
Thank you for reading SharkTankBlog, the number one site for Entrepreneurs, Investors and Fans. Our content updates multiple times day, giving you the latest information on Episode 626, Season 6, and all other seasons and episodes.
Episode 626 Press Release
SHARK TANK – "Episode 626″ – The Sharks take no prisoners, driving one entrepreneur to tears and grilling another: "Are you here to get exposure or to get exposed?" This week, a man from Brattleboro, VT joins singer Pat Boone to pitch a new eco-friendly car that they claim is superior to electric vehicles because it runs on compressed air; a super-fit mother of three from Ft. Collins, CO touts the benefits of her snack bars connected to a popular diet; a fisherman who holds the world record for biggest striped bass ever caught tries to net a Shark's investment in his unique lure that helped him make that catch; and two men from Cincinnati, OH provide customers with sets of glasses and frames that are interchangeable and reasonably priced. And a follow-up story on Heidi Ho Organics in which Lori Greiner invested earlier this season on "Shark Tank," FRIDAY, MAY 1 (8:00-9:00 p.m., ET) on the ABC Television Network.