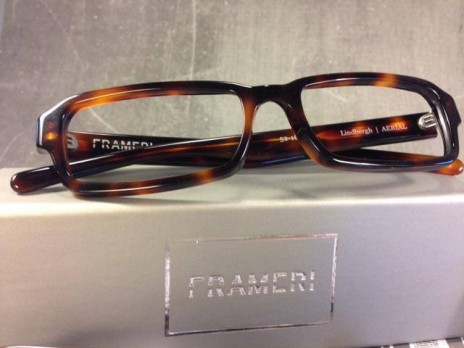 Konrad Billetz and Kevin Habich hope to frame up a deal for Frameri, their eye wear company that features interchangeable lenses and frames, in Shark Tank episode 626. Billetz, Frameri founder and CEO, started wearing glasses when he was eleven after a friend shot him in the eye with a BB gun. Throughout the years, he was frustrated with his choices for glasses, so he created a business that solved his problem.
Frameri are essentially "component based" glasses. Lenses and frames can be purchased separately and the lenses can be switched out to different frames depending on the look you want. It seems like a simple concept, but for years glasses had to be purchased "pre-assembled." Frameri frames come from a small, family run factory in Italy and the lenses get made in Cincinnati. Each lens is naturally UV protected, scratch resistant, and comes with both an Anti-Reflective (AR) coating as well as an Electro-Magnetic Interference (EMI) coating. Frames and lenses cost a hundred bucks each.
The company started in June 2014 with a $750K venture capital round. Their biggest challenge is educating consumers about the ease of switching out the lenses. Since eyeglasses are such an inventory-centric business, Frameri is likely looking for a Shark to fund inventory and provide some guidance,
Can the Frameri guys get the Sharks to share their vision and invest?
Frameri Shark Tank Recap
Konrad and Kevin enter seeking $150,000 for 3.5% of Frameri. They created the company to change out styles of glasses simply. They demonstrate how easy it is to change out the lenses and they hand out their product. Each package of 6 pairs of glasses is $500.
Daymond asks why they've valued the company so high. Kevin thinks a major manufacturer could crush them. Lori thinks the patent has been done before. The guys demo their virtual reality try-on feature. They explain the cost is $27 on the frames and $10 on the lenses. They have sales of $70K on a pre-order basis, so Daymond thinks they are only in the Tank for exposure.
Konrad and Kevin say they're here to make a deal. Lori is bothered that they don't have any experience with the product. The guys want help building a brand. Kevin wants to know how much cash they have on hand and they have about $38K per month for 24 months.
Daymond goes out. Lori likes the glasses, but not the unknown untested nature of the business – she's out. Robert likes the product but not their experience level – he's out. Mark says he cares about where valuation could go and he wants to know where their customer acquisition is coming from. They say they are going to do a lot of PR, Mark doesn't think their strategy is specific enough – he's out.
Kevin says he can help reduce customer acquisition cost. He'll give them a $150K loan. Frameri repays his $25 for every customer until Kevin recoups $450K, then he retains 3.5% equity. The guys don't want to give up royalties and decline the offer, prompting Kevin to say "you're dead to me."
RESULT: NO DEAL
Frameri Shark Tank Update
The Shark Tank Blog constantly provides updates and follow-ups about entrepreneurs who have appeared on the Shark Tank TV show. The two men closed the business down in March, 2017 and both went on to start other businesses.
Posts About Frameri on Shark Tank Blog
Frameri Company Information
Video