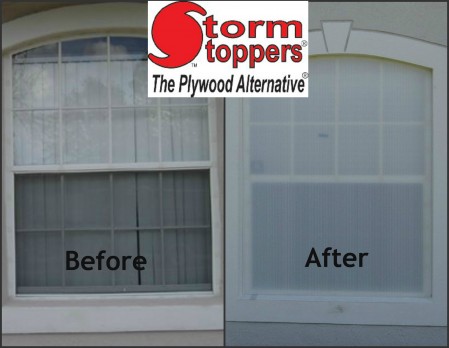 John Smith, founder and inventor of Storm Stoppers, "the plywood alternative" for covering windows in hurricanes and severe weather, hopes he can weather the storm in the Shark Tank in episode 610. Storm Stoppers are corrugated plastic panels that fasten over windows with 3M Dual Locks. People have been using them all over the east coast for ten years to protect their homes during hurricanes and Nor'easters.
Customers send Storm Stoppers their window measurements, then Smith inputs them into his proprietary program that both calculates how many oversized 65 x 108" and 76 x 85" Storm Stoppers panels they need; he also provides an 8×11" cutting diagram. The panels get shipped to the customer who cuts them to size at their home.
The advantages of Storm Stoppers over plywood are numerous: the material is much lighter, so it can be installed by 1 person; it doesn't need to be replaced for each storm; they're better protection against missle-like objects, they let in light, and they are easy to cut & install without a lot of tools.
Smith's sold over $6 million worth of Storm Stoppers in his ten years in business selling direct and through select distributors; he only sells direct currently. While he claims he doesn't want to deal with big box home improvement stores, he is likely looking to enhance his distribution with help from a Shark.
Will the Sharks see this business opportunity as a "perfect storm" and invest?
Storm Stoppers Shark Tank Recap
John enters seeking $100K for 10% of the business. He then has a weather map with "Hurricane O'Leary" approaching. Then he asks Barbara to come on stage and help him install a Storm Stopper. Then he shows a video of the Storm Stopper at work. The Sharks are impressed, then John awkwardly pulls a table out from behind his display.
He hands out samples and shows how you can punch it out from behind. Kevin questions the cost and the valuation and John says he's done $5.5 million in sales over the last ten years. He explains how his business is dependent on weather and the Sharks balk. Next Mr. Wonderful says he could start and build the same business. Robert thinks there are too many challenges and he goes out. Kevin follows. Barbara thinks the product is good, but thinks he needs to carry too much inventory, she's out. Mark doesn't like John's sales skills, and he goes out. Lori thinks it's a smart product, but doesn't like his sales numbers, she's out.
RESULT: NO DEAL
Storm Stoppers Shark Tank Update
The Shark Tank Blog constantly provides updates and follow-ups about entrepreneurs who have appeared on the Shark Tank TV show. Since airing, the company brought on 3 distributors: one in North Carolina, one in South Carolina and one in Hawaii. In November, 2022, the company is still in business and generates $3 million in revenue per year.
Posts About Storm Stoppers on Shark Tank Blog
Company Information
Video