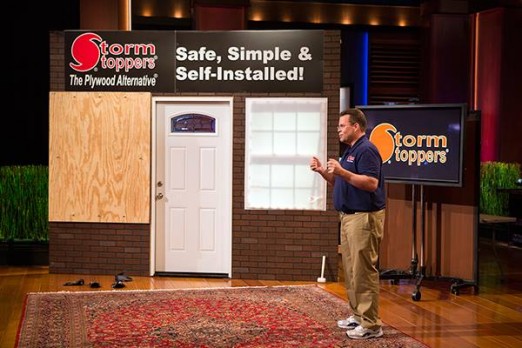 I was first introduced to Storm Stoppers – the Plywood Alternative – when business owner John Smith contacted me during season five. He sent in a tape and applied to the show, but he wasn't chosen to air. Apparently, persistence pays off, because John applied for season six and now he's airing on the 100th episode of Shark Tank, episode 610.
John created Storm Stoppers as a plywood alternative for protecting windows during hurricanes. When there's a storm brewing, people board up their homes with plywood to protect against damage from wind, water, and flying debris. The problem with plywood is it's heavy and hard to handle alone, it often can't be re-used due to water  damage, and it offers limited protection from debris. Storm Stoppers is made from a durable, light-weight, corrugated plastic that's much lighter (so one person can install it), can be re-used, and offers better protection against debris. The other thing that's good about Storm Stoppers is the panels are translucent, so they let in light while protecting windows.
John sells his plywood alternative direct to consumers. Simply measure your windows and send the measurements to Storm Stoppers; John ships out the proper number of panels which the homeowner cuts to size using the included cutting diagram. He's been doing this ten years and he's sold over $6 million worth of product in that time.
My Take on The Plywood Alternative
John sent me a sample (you can get one here) and I have to say, the Storm Stopper is strong. My parents, who have a home on the ocean, are looking into getting sized so they can forget about plywood the next time a hurricane comes their way. The first hurricane they dealt with in that home was hurricane Gloria back in 1985. It knocked out power for a week, crashed a tree into their roof, broke a window, blew a fence away, and deposited their 42 foot boat on someone else's front lawn! It was quite a storm!
Since then, we've had a few hurricanes hit land in Massachusetts, but Gloria was the most destructive for our family. Anyone who lives on the east coast knows the dangers of hurricanes. John, who lives in Florida, does too; Florida gets more hurricanes than any other state. It's certainly a product millions can use. If I had a home on the shore, I'd be planning ahead and stocking up on the plywood alternative for the next storm.
I am IN.
Will Mr. Smith Weather the Storm in the Shark Tank?
Smith has a solid business, but will the Sharks think it's "investable?" Certainly Daymond will understand the power of hurricanes. Shortly after he invested in PRO-NRG in season 4, the Patruno family was devastated by hurricane Sandy. I remember speaking with them while their power was still out! Any of the Sharks will understand the need for the product and the damage hurricanes can inflict.
I'm on the fence as to whether Storm Stoppers gets a deal. Mr. Smith has made no changes to his marketing strategy and his website hasn't been overhauled. He was also featured in Kevin O'Leary's "gag reel," and it wasn't the most flattering portrayal! I did an interview with John, which might provide more insight, but for now, I am staying on the fence!