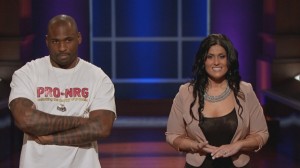 Brandon Jacobs may have been the celebrity draw for PRO-NRG, the protein infused flavored vitamin water funded by Daymond John in episode 406, but entrepreneur Tania Patruno is the driving force behind the latest entry into the nutritional supplement/energy drink space. Tania and her husband, Eddie, live in Woodbridge, New Jersey, one of many New Jersey communities ravaged by hurricane Sandy. We had to postpone this interview several times due to the hurricane; twice because we were both without power and once because Eddie and Tania were rushing out to buy a generator. Woodbridge saw entire neighborhoods destroyed, roads washed out, and the Patrunos had a boat in their yard (it wasn't theirs). To say they, along with millions of other New Jersey residents, were adversely affected by Sandy would be a gross understatement.
Sandy hasn't hampered Tania and Eddie's spirits. They were both very upbeat when we finally did connect for a chat late last week. They both filled me in on the history of PRO-NRG, the Brandon Jacobs connection, and life after Shark Tank with new business partner Daymond John.
Tania's Motivation
Tania works as a department manager for Nordstrom and her husband Eddie is a real estate investor. While the pair are a team, Tania was quick to clarify the business relationship. "This is my baby, it's all me," she exclaimed with more than a hint of sarcasm, "Eddie has been very supportive behind the scenes assisting the boss, but I don't want him stealing my thunder!"
Tania didn't set out to invent the next big thing in fitness drinks, she just wanted to make herself better. "I'm the type of person who gains ten pounds just walking past a bakery, I've struggled with my weight for my whole life. I have never not had to think about it. I was always counting calories and protein intake and drinking a lot of water. I have tried just about every kind of supplement out there and I was looking for a product to tie it all together."
She wanted something protein based, because protein curbs appetite, builds muscle and gives you energy, just not in a quick burst like a sugary or caffeinated  energy drink. "Being on my feet all day, sometimes it's hard to get the energy to go work out. Now, I drink a PRO-NRG at 4 PM and I am ready to exercise."
Brewing up PRO-NRG
Tania developed PRO-NRG  in the summer of 2011 and it took about 6-8 months for it to become what is now the current product.  I had visions of Tania brewing up PRO-NRG in her kitchen. "No," she laughed at the thought, "it wasn't like that. I searched for manufacturers to make my formula and I finally found one who would make it up in small batches. I wanted something lightweight and refreshing, not like a protein shake. I wanted vitamin water with protein."
"The first sample didn't come out right. I knew what I wanted, so we went back and forth until it was right.  I started drinking it every day and I saw results. I didn't get into this to be a business, I'm just a normal person who wanted to better myself, but I knew I had something when I started to lose weight. I observed things and realized there was definitely a hole in the market. It's a functional beverage, there is nothing out there like PRO-NRG."
Eddie put it more succinctly: "Thinks steak in a bottle with a citrus taste."
Brandon Jacobs and the "AHA moment"
Eddie and Tania are Giants fans. They gave me the lowdown on Brandon Jacobs. As a New England Patriots fan, I was well aware of Mr. Jacobs' Super Bowl performances. I can't say I am a big fan, but I can respect his play on the field. "Brandon Jacobs was a leader in the Giants locker room," Eddie elaborated, "he was a vocal player and you either loved him or hated him." Despite the vocal nature of some of the more rabid New York fans, even the most jaded fans can't diminish his instrumental contributions to both Super Bowl victories. Love him or hate him, the Brandon Jacobs is a player.
The Patrunos count themselves squarely in the "love" constituency. Eddie Patruno and Brandon Jacobs belong to the same car club, so they knew him on a social level. "It was kind of funny," Tania explained, "I gave him some samples to try out and he gave me what is probably a standard answer, I'm sure people approach him all the time. He said something like, 'oh yeah, thanks, I'll check it out and maybe we can set something up.' He seemed a little luke-warm about it, but I'm sure that's a natural response for a guy like him."
"Two or three days later he called me and said 'I'm in!' That was my 'AHA moment.' Having Brandon Jacobs say that validated it for me. He kept asking for more to give out to his teammates. Now he's giving it out to his San Francisco teammates." The Patrunos have found themselves rooting for the 49ers this season, even though Jacobs has been injured.
PRO-NRG in the Shark Tank
PRO-NRG kept selling out. They were generating business and couldn't keep up with demand. That's when they made the decision to apply for Shark Tank. Eddie and Tania are both big fans of the show. "We've been watching since season one, before we 'd even thought of PRO-NRG. The whole experience was surreal." Eddie explained the application process further. "When we decided to apply, I thought we had a pretty good shot at being selected. We had something unique, we had sales, the product served a purpose, and," he paused for effect, "we had Brandon Jacobs."
"We sent in the email and got a call back two or three days later. Brandon had a lot to do with that." They were scheduled to tape in LA in July, just a year after Tania brewed her first batch of PRO-NRG with her manufacturer.  "It seems like it was so long ago, now when I watch the show, and those doors open, it's like a flashback. I re-live the moment."
According to Tania, her edit was jazzed up for TV. "They edited it to make it seem like I was making faces at odd times and they made a big deal about Robert not liking the taste, but the other sharks jumped all over him for it."
Life with Daymond
"We were excited to get a deal with Daymond, he and Mark are my favorite sharks. We didn't know what to expect. This is the first season they've had celebrities and when we aired, it was the highest ratings for the show a the time. Having Brandon Jacobs pitching with me brought a whole new audience. A lot of football fans tuned in. "
"Daymond's team completely re-designed our website. The old one would have crashed in about five seconds. The internet just blew up. I had over 1,000 friend requests on my personal page; it was crazy. Our website had the highest conversion rates in the show's history."
PRO-NRG was available in metro New York 7-11 stores prior to the show and Daymond is helping Tania roll it out nationally. "He just knows how to find the right people. Right now, we're dealing with regional, national and international distributors. We're pouring all the money we make back into the business." Tania also told me Brandon Jacobs will continue to be involved as PRO-NRG moves forward.
Tania is a fan of Spatty inventor Cheryl Rigdon, another entrepreneur Daymond is mentoring. "I think she presented very well and she had a product I would use.  I liked her immediately."
Tania was very humble about her product. I kept reminding her and Eddie about the Vitamin Water Deal: that company sold for $4.6 billion. That's the kind of money they're looking at, especially with endorsements from elite athletes like Brandon Jacobs. I joked that the next time I talked to them, they'd be weighing their money instead of counting it. "From your lips to God's ears," said Eddie, "from your lips to God's ears."
Both Eddie and Tania had parting words of inspiration. Eddie said, "even when you feel like there's no hope, you gotta keep plugging away."
Tania advised, "the only person holding you back is you. Nobody's better than you."
As always, I had one more question for the Patrunos. The answer can be found at the Hot Dog Truck.