Tenacious Entrepreneur Ginelle Mills, inventor of Cool Wazoo, demonstrated what it really takes to land a deal. She managed to get business funding she needs to take Cool Wazoo to the next level. She was first Entrepreneur to step in to the Shark Tank on Episode 410, masterfully won the hearts of The Sharks, despite all of them turning her down first.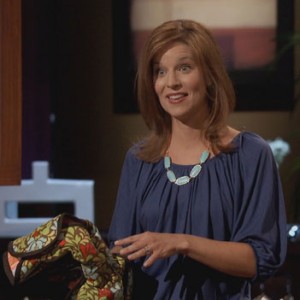 As I watched Ginelle Mills, make her pitch, I knew she would get the deal, despite all the catastrophic mistakes she made during her entrepreneurial journey. Like Ginelle, I went to the School of Hard Knocks, making similar mistakes.
Personally, I am known as a tenacious and passionate entrepreneur who is able to win over others. Ginelle Mills shares that ability, and knows how to find luck, when she needs it most. That is the difference between most failures and many successes.
Most entrepreneurs would simply walk away after The Sharks turned them down while others become defensive, nothing good comes from that. Not Ginelle, instead, she summarized what happened and then shared that she would not quit; instead she said she'd continue to pursue her dream.
Given that the Sharks liked the product, she was half way there, but she needed to convince The Sharks she has learned what she needs to know in order to be successful. As each Shark Investor listened to the final passionate pitch, they knew she has what they have, she just hasn't hit her stride yet.
That's why we Entrepreneurs need to be tenacious and passionate all the time. We have to make sacrifices in order to live our dreams. Ginelle Mills understands that, so do The Sharks on the panel.
Ginelle Mills Gets Deal
Ginelle Mills started out asking for $65,000 in exchange for 25% of her company, and Lori Grenier came back in to do the deal. Kevin O'Leary said he would have taken 50%, but Lori knows Ginelle Mills won't let her down. Lori has an entrepreneur she can mold and appreciate.
As Ginelle was about to walk out, after doing the deal, Daymond John commented, "Ginelle you are deadly, your smiles get your husband, and your tears get Lori, I tell you, amazing. "
Ginelle Mills is now one of my all time favorites to pitch on Shark Tank. I know this show is the beginning of the next level for her, and she will do well.
Congratulations, Ginelle Mills on a masterful Shark Tank pitch!