Episode 410 – Shark Tank Season 4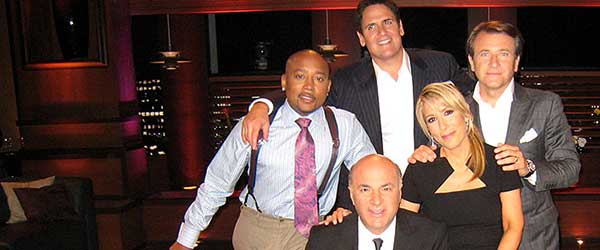 Shark Tank Episode 410, Season 4, has The Sharks taking on Family Guy creator and host of the 85th Academy Awards, Seth MacFarlane. The comic superstar is the latest of many celebrity  endorsers in season four. MacFarlane is helping his friend, Bruce Gaither, pitch the No Fly Cone – a new and innovative spin on the rather humdrum flytrap. To date, every celebrity endorsed pitch in the Shark Tank in season four has been funded by the Sharks; tune in to see if Gaither and MacFarlane continue the trend in episode 410.
Entrepreneur Ginelle Mills introduces the Cool Wazoo to the Sharks in episode 410. The inventive mother of three is pitching her patented, five in one baby mat which can be used as a  heat shield for hot car seats and swings, large diaper changing surface, restaurant high chair cover, and grocery cart cover. Will the sharks feast on the latest baby product pitch or will they treat Ginelle to some hard business lessons?
Entrepreneur Michael Tseng introduces the Sharks to a winning product called Plate Topper. Tseng was a winner in WalMart's "Get on the Shelf  Contest" last year. His innovative twist on an old food storage standby will have both Lori and Daymond thirsting for blood in what promises to be a feeding frenzy! Does Tseng take home one of the richest deals in Shark Tank history in episode 410?
In Shark Tank season three, episode 314, Lori Greiner funded NailPak, a handy, all-in-one nail system invented by Barbara Lampugnale. The episode 410 follow-up segment features an update on Nail Pak. Lori put  NailPak on QVC the day following the original air date and the nail polish sold out! This is sure to be a top-notch Shark Tank success story.
Two weeks ago, ABC announced Shark Tank will move to 9 PM eastern time, beginning with episode 410. This will give people a bit more time to settle in to watch their favorite venture capital game show and give ABC some exposure for new sitcoms. The Shark Tank/ABC website is still looking for entrepreneurs, so if you would like to appear on the show, check out our Auditions and Casting information.
Episode 410 – The Shark Investors and Entrepreneurs
The Shark Tank Episode 410 entrepreneurs and celebrity guests will make their best pitch to a panel of five Shark investors who use their own money. The Shark Investors negotiate on the spot without any previous information, which differs from normal negotiations with investors.
Companies pitching the Shark Investors must go through a rigorous, but completely normal,  due diligence process before the deal made on the air is completed. Shark Tank Blog follow ups help you keep track of the companies that end up successful and the ones that don't complete their deal.
Thank you for reading Shark Tank Blog, the number one site for Entrepreneurs, Investors and Fans. Our content is updated multiple times day, giving you the latest information on Episode 410 Season 4 and all other seasons and episodes.