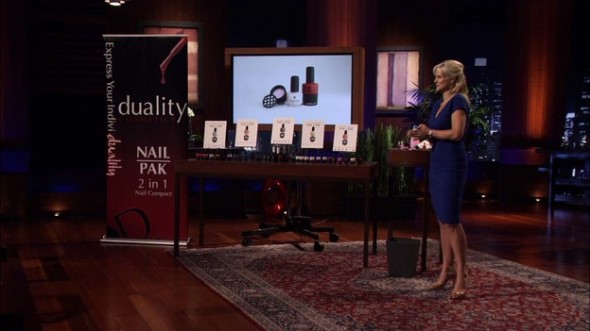 Nail Pak nail polish entrepreneur and mother of 6 Barbara Lampugnale pitches the Sharks on her 3 in 1 nail polish in episode 314. Barbara is a former interior designer and cosmetics industry pro who, along with her daughters, has weekly "nail parties" where the girls all get together to do their nails. It was during one of these parties that the idea for Nail Pak nail polish was born. The idea of having all the elements for a manicure or pedicure in one compact package made sense to a woman with a lot of nail polish around her house. Each bottle of nail polish comes with nail polish, a file, and pre-soaked nail polish remover wipes. It's an all in one manicure system in a package the size of a regular nail polish bottle.
Nail Pak Shark Tank Recap
Barbara Lampugnale came into the Shark Tank seeking $50k for a 20% share in Nail Pak. She reveals she's invested $300K of her own money. The Sharks like the fact Nail Pak only costs $3 to make, yet retails for $14.99. Robert doesn't know anything about cosmetics, so he's out. Mark thinks it's a good idea, but he doesn't want to invest the time in creating a big team to help the product hit the market; he's out too.
Lori LOVES Nail Pak. She offers Barbara the $50K, but she wants 51% of the business. She promises Nail Pak will sell out on QVC. Kevin jumps in and offers $50K for 40% of the company and promises to get her on TV too. Kevin also asks Daymond to join him in the deal, then Barbara asks Lori to come down to 40%. Lori agrees, but only if she can join in on one of Barbara's nail parties. Barbara agrees and the deal is made.
Nail Pak Shark Tank Update
Lori Greiner revealed in an interview with Shark Tank Blog that one of the episode 314 products would appear on QVC the Saturday morning following the initial broadcast. They sold out almost immediately! Barbara and Nail Pak are featured in an update segment in season 4, episode 410. In addition to the tremendous success on QVC, Lori helped get the nail polish on the shelves at over 500 Ulta Beauty stores nationwide. Barbara is well on their way to being one of Lori's biggest Shark Tank success stories!
Barbara rebranded the company to Grace Nail Company in 2015 and ran the business for a few more years. While she still lists the company as "open" on her LinkedIn page, social media stopped posting in 2018 and as of July, 2022, there is no way to order product from the company website.
Posts About Nail Pak on Shark Tank Blog
Company Information