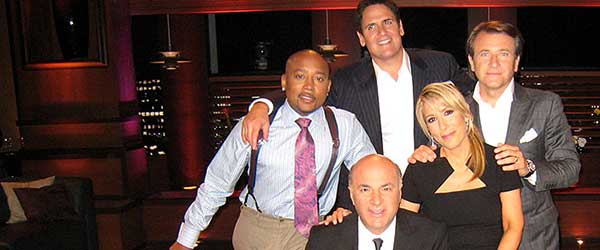 "Lori Greiner is the hardest working person I have ever met." Shelly Ehler, whose Show No Towels were funded by Lori on the Shark Tank earlier this season, told me that when I interviewed her last month. That being said, Lori Greiner herself took time out  of her very busy schedule to speak with me on the phone the other night. I had never spoken with Royalty before, but the "Queen of QVC" was very down to earth, friendly and informative. After just a few minutes, I felt as if I were chatting with an old friend.
Lori Greiner Interview – Twitter Action
Lori watches Twitter, Facebook and The Shark Tank blog, but she usually only gets involved with social media on a "personal" level. That's not to say she doesn't see fan's posts and tweets, it's just that her busy schedule leaves her very limited time to respond to everyone.  "That doesn't mean I am not paying attention," she said. Lori also said she appreciated all Kirk Taylor and I have done for Shark Tank entrepreneurs. "I like the promotional aspect of what you're doing," she said. That was the main reason she agreed to speak with me. Unfortunately, the Friday night, April 27 episode is the last appearance she will be making as a guest shark this season.
A city girl by birth, Lori was born and raised in downtown Chicago's Near North Side. Her vast empire, which encompasses her QVC show, an internet sales channel and "other interests," while quite large, is still a family business of sorts. Her husband, Dan, is a CPA who left his job to work with Lori building her consumer products empire after her first five years in business. It never hurts to have an accountant in the family!
I wanted to know a few things about Lori and her experiences on The Shark Tank. The most obvious question is why in the world would someone worth $350 million bother with a show like Shark Tank?
"Being on Shark Tank is a natural extension of what I do," she said. "I find, make, design, manufacture, and bring products to market." To date, she's brought over 350 products to market. Some are her own creations, while others are from entrepreneurs like the ones who appear on Shark Tank. "I find products through friends or friends of friends. If I like the idea, I do a deal. I can tell whether an idea is a hero or a zero instantly." That kind of intuition and her straight shooting demeanor is what makes her so popular with fans of the show.
She further elaborated on why she likes being one of the Sharks: "When first I got started, I had nobody helping me. I did it all on my own. I had naysayers close to me, but my motto is 'There are no NO's, just how can I's. I took out a $300,000 bank loan to get started. I knew what I wanted, and I went for it. Success is knowing when you see an opportunity and grabbing it. I enjoy the Shark Tank experience because I enjoy helping people. It's just my nature to be helpful. It's Karma." She also said she has developed "genuine friendships" with all the entrepreneurs she has funded.
I asked if there were any products she passed on this season that she wished she had funded. There were none. "Like I said, I know what will sell. I focus on making the products and entrepreneurs I am involved with as successful as can be. I have a lot of  'shark tank babies' coming to fruition in the next few months. I like to focus on what I know will be great." To date, her most successful partnership has been with ReaderRest, which  has over $2 million in sales and shows no signs of slowing down. "We have a follow-up segment on Shelly Ehler and Show No Towels coming up on May 4. I can't tell you exactly what happens, but at the end of the segment, it's like when the bus pulls away at the end of Extreme Makeover," she said. She wouldn't elaborate (neither would Shelly when I asked her), but if you read between the lines, it sounds like another home run for Lori Greiner.
As for her relationship with the other Sharks, she said that, much  like herself, "what you see is what you get. We all get along. Daymond is a funny guy- he's funny on  the show and that's what he's like in person."
Fellow Shark, Mark Cuban, has been very vocal on the issue of Patent Trolls and how they are going to ruin this country. As someone who holds 112 patents, I asked Lori to weigh in on the issue. "My IP lawyers have told me there is legislation pending that will put a lid on [frivolous lawsuits]. As for Mark's recent blog post on the issue, I haven't read it, so I can't really comment on it. I don't think patent litigation will cripple the economy, though. I have had people try to steal my products and make knock offs and I have had to defend myself. When you create unique products, you have to protect yourself, this is especially true for beginning inventors. Protecting your invention against knock offs is like the triumph of good over evil." I would personally LOVE to see Lori Greiner and Mark Cuban have a debate on this issue!
Lori Greiner has made a big splash in the Shark Tank this season as a guest shark. She told me, "I will  be back next season, I'm just not sure if I'll be full-time or not." As a father of four girls who thinks Lori Greiner is a fantastic role model for women of all ages, I want her back FULL TIME. Girls and young women need strong role models in the business arena and Lori Greiner fits the bill.
As I said earlier, Friday's show is Lori's last appearance for the season. We talked a bit about the companies to be featured. She wouldn't tell me what happens, but she did say "I fund a business and that business will be featured on QVC Saturday, April 28 at 10 AM eastern time." I guessed that she funds NailPak, but frequent readers know my guesses aren't always right! Either way, Lori wouldn't elaborate.
To commemorate her season three Swan Song, Lori is having a contest on her website. The winner will receive:
One Safekeeper Mirrored Jewelry Cabinet ($179 value)
One Luxury Deluxe Cosmetic Box ($76 value)
One Hard Case Expandable Luggage ($79 value)
Face-to-Face One Hour Skype Call with Lori (priceless!)
To enter her contest, CLICK HERE.
I want to thank Lori Greiner for taking the time to talk with me and I look forward to speaking with her again next season (she promised)!
Make sure to tune in This  Friday night when Lori will be shaking up the waters !!
As I do with anyone I interview, I asked Lori THE QUESTION. You can see the answer on The Hot Dog Truck.