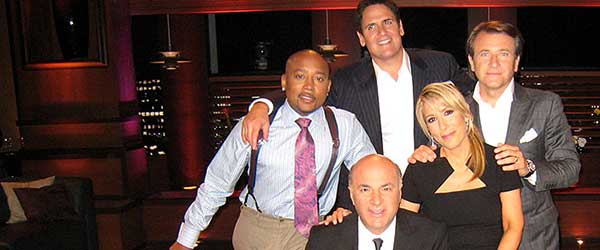 Shark Tank returns on Friday April 27 with four new entrepreneurs and yet another success story in the follow-up segment. This show will be the last scheduled appearance in season 3 of Shark Tank for Lori Greiner and she has sweetened the pot for her fans with a contest of her own.
Debbie Brooks Handbag Collection enters the Shark Tank pitching her varied line of handbags, furniture, artwork, and accessories. This business is ten years old and appears to be doing well. Will the sharks bite and fund this exclusive and pricey fashion line, or will Ms. Brooks be left holding the bag?
Trimi Tank is a business started by two Pittsburg area hockey moms. Entrepreneurs Nikki Bilski and Lindsay Johnson bring their line of tank top straps and accessories into the Shark Tank, most likely looking to Daymond John to help them along. Will the ladies successfully feed the Sharks their business idea or will the gloves come off?
Lollacup is a no-spill sippy cup designed by California mom Hanna Lim. The product is made entirely in the USA out in California and entrepreneur Lim aims to keep it that way. Will the Sharks "drink the Kool Aid"  and fund Lollacup, or will this business be left grasping at straws?
NailPak is a patented nail polish system that includes nail polish, remover, and a nail file all in one neat little package. Entrepreneur Barbara Lampugnale allegedly pawned her engagement ring to start the business. Will the Sharks buff up their offers of funding or will Barbara Lampugnale be left filing for other investors?
***SPECIAL NOTE:  Lori Greiner told me earlier this week that she funds a business on this show and it will be on QVC at 10 AM Eastern time Saturday, April 28. My bet is that business is NailPak***
This week's follow-up segment features Talbott Teas, the boutique tea company funded by Kevin O'Leary in season 3. Daymond John later entered the deal after extricating himself from a conflicting interest. Entrepreneurs Shane Talbott and  Steve Nakisher sold their company to Jamba Juice after their segment aired. Maybe we'll find out for how much this Friday.
The Sharks in the Shark  Tank this week are Mark Cuban, Lori Greiner, Robert Herjavec, Daymond John and Kevin O'Leary.
Tune in to Shark Tank on ABC this Friday, April 27. As always, I will be live tweeting before, during and after the show @hotdogman1964. Until Friday, check out the video preview: