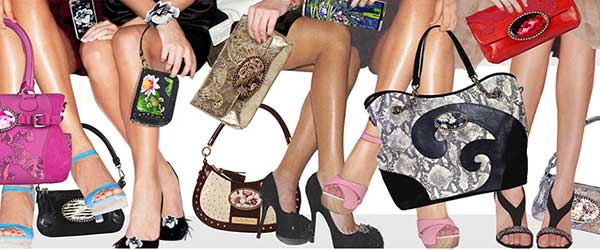 Debbie Brooks Handbags are yet another fashion related business entering the Shark Tank on Friday night. The eponymously named business has been selling custom made handbags for ten years. Debbie Brooks was schooled in art at the prestigious Pratt Institute in New York and worked as a designer for Disney, Warner Bros., Nickelodeon, Universal Studios and F.A.O. Schwarz before launching her handbag line in 2002.
The multitude of products featured on the Debbie Brooks Handbags website is quite extensive.  In addition to handbags, her collection features artwork, home furnishings, jewelry, and a product called Magnafabs. Magnafabs are magnetic charms that attach to Debbie Brooks' wallets, keychains, shoulder bags, wrist bags, and pendants, enabling a customization feature to each product.
Debbie Brooks Handbags on TV
Debbie Brooks appears to have a successful business already- after all, she has been around for ten years and she has dozens of celebrity endorsements and TV appearances. I am left wondering why such a business is seeking Shark Tank funding at all. As with any fashion product or product with "female appeal," Daymond John and Lori Greiner would appear to be the obvious target Shark Tank investors for this business. I am not sure a business this mature would be palatable to any of the sharks as Ms. Brooks' numbers should be pretty clear and her business valuation ought to be fairly straightforward. I can't see a business owner giving away too much equity and I can't see the sharks going "in" for a small stake.
Perhaps the Debbie Brooks Handbag business is seeking to split off a segment of the business- like the Magnafabs- for Shark Tank investors. The Magnafabs might be able to be configured to attach to other products in addition to Debbie's. All of the items featured on the website are fairly pricy- perhaps too much for  mass market appeal. As we saw with Litter Jewelry, this is not necessarily a barrier to funding, but Litter Jewelry was not as established as Debbie Brooks Handbags.
I just don't see how the sharks would  value this  business and why they would take what must be a small percentage of it to make a deal. For that reason alone, I am "out."