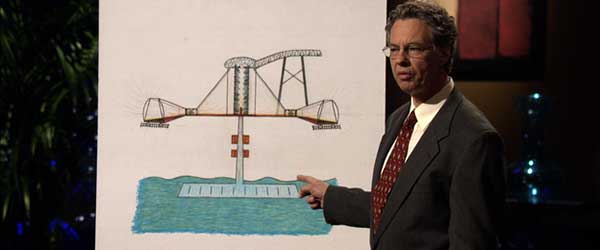 Mark Sullivan Generator. In the weeks before his segment aired on Shark Tank, I couldn't find out a darn thing about him or his invention. He was a mystery wrapped in an enigma. Once Mark Sullivan appeared on Shark Tank, he became easier to find.
In what had to be one of the oddest segments on the show to date, Mr. Sullivan pitched a "product" that he claimed could change the  world. While Mr. Sullivan appears to be a nice guy whose heart is in the right place, I am not sure if he was for real. His "Mark Sullivan Generator," which he alleges can create energy for free while simultaneously mining gold from seawater is a logistical impossibility. One of our readers commented that in order for it to work, it would need to be a mile high. That seems a bit too large for practical purposes as construction and maintenance would be expensive and, I would assume, prone to catastrophic break down. It would certainly cost more than the $1 million Mr. Sullivan was seeking from the Sharks.
I decided to have my own in-house expert evaluate the Mark Sullivan Generator. My dad is a nuclear engineer who was in the power business for 35 years. We watched the Mark Sullivan segment on DVR and, when he stopped laughing, he told me the machine would never work. He said the power required to generate the Coriolis Effect sufficient enough to create energy would most likely exceed the output of the generator itself. The Mark Sullivan Generator simply would not work.
I explored Mr. Sullivan's website. He is definitely a smart guy; he's a member of the Mensa Society. His site lists all sorts of contributions to industry, but there is no documentation of his claims of creating inventions for "diverse industries." He claims he's completed post-graduate studies in bio-engineering and physiology, but has no advanced degrees. He did, however, build a pretty kick ass dune buggy.
Mark Sullivan may be smart, and his mission "to leave a legacy of goodness for the world" is certainly admirable, but I think the guy is over evaluating the impact of his "inventiveness." I believe the Shark Tank producers put the Mark Sullivan Generator on the show for comic relief. It is nice to believe there is a free, renewable source of energy that is yet undiscovered and I truly do hope someone finds something as revolutionary as the Mark Sullivan Generator (that actually works) someday. Unfortunately for Mr. Sullivan, his invention will never work and his legacy will most likely be that of  "the wacky inventor on Shark Tank."