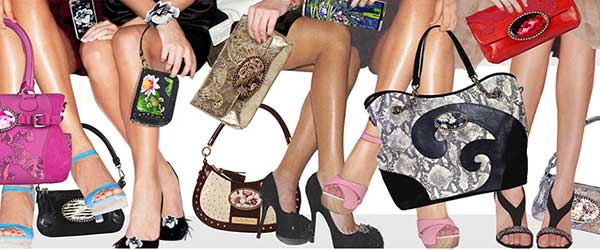 Debbie Brooks is now a household name in my house. I must confess, I don't follow the designer handbag scene personally, but my daughters were BLOWN AWAY that I spoke with Debbie! I asked some of the more fashionable Little League moms I know about Debbie, and when they found out I "met" her, they were suitably impressed. I guess having a guy who chats with famous fashion designers as the coach of your seven-year old's baseball team is pretty cool in certain circles!
Debbie Brooks and her husband, Paul, appeared on the Shark Tank last Friday. I predicted they wouldn't get funded because her business was too mature. It turns out, the couple wanted the funding to open a Flagship store for the Debbie Brooks brand. They didn't get funded, but that isn't what disappointed Debbie the most. Debbie, you see, just loves Barbara Corcoran and wanted to meet, and hopefully partner with, her. "I have read all her books. I even schedule my lunch breaks around Barbara's TV appearances. We learned at the last-minute Barbara wouldn't be at our taping and I was heartbroken," she said.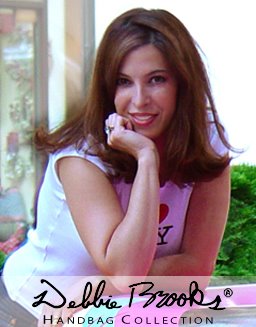 Not meeting Barbara was just a minor setback, as was not getting funding. The Flagship Store concept for a fashion designer is all about branding. The couple had a successful store in the King of Prussia Mall, but when the lease was up, Starbucks outbid them for the space. They want a Manhattan Flagship Store to support their wholesale distribution. Paul, who has a construction background, has been working on finding the right location. "We prepared ourselves as if we would get a deal on Shark Tank, and we are proceeding with them. All the steps are in place, it just needs to be the right deal in the right space," he said. Come to think of it, Barbara Corcoran is in real estate, maybe she can help find Debbie and Paul some good retail space!
The couple has a very interesting background. Their story is part rags to riches, part Cinderella, with a dash of Party Monster thrown in. Their lives came together a little over ten years ago. "I had just been laid off, I had a 30 day notice on my apartment, my phone was shut off, and I was writing a rubber check to the electric company," Debbie explained. "I happened to be watching Oprah, and that day Oprah said 'do what you love;' so I did it."
Debbie and Paul met very shortly after her epiphany. They were set up by friends on a blind date. Paul recalls their first meeting: "She kind of looked me up and down and said [with some disdain] 'you're my date?!' She had on this long, fake fur coat that she wouldn't take off. When she finally did take it of, I saw she had on a skin-tight, leather mini skirt!" Debbie wasn't impressed at first, "he was dressed in beige- he looked like wallpaper and I wanted to go dancing at Obar!" Later in the evening, she found Paul to be "just incredibly nice. We were a bit of an odd couple, but we have been together ever since." Paul describes their relationship as "complimentary and diverse- we meshed in business and our marriage."
That fateful night was the beginning of their business relationship as it turns out. Debbie designed Paul's business cards and she went to work for him selling maintenance contracts for Paul's Air Conditioning service company. "My first call was to the Roxy Nightclub. We got tickets to Madonna and I was dancing on the bar while Paul was on the roof fixing their 50 ton AC unit. After that, I just called on my favorite nightclubs and got the service contracts." Paul saw Debbie as a naturally funny character, so he tried to get her onstage at Caroline's Comedy Club, but Debbie found out what he was up to and walked out. She continued selling the AC service contracts to make ends meet, but Paul changed her life when he gave her a $5000 bonus. "I told her she could go out and buy some new clothes or use the money to get a booth at Art Expo New York," said Paul, "we gave it a year to see if we could make a business out of her art."  The couple didn't have to wait long. The Art Expo Booth drew attention from news networks and she was on New York 1 that same weekend. Before long, Debbie Brooks was selling in shops from SoHo to Las Vegas.
All through this conversation, Debbie's enthusiasm for life and her work shone through. She's a sassy, brassy New York City lassy with, as she describes it, "a glass overflowing outlook on life."  This may have been the pair's downfall on The Shark Tank. The sharks immediately focused on the Magnafabs portion of Debbie's line. Magnafabs were born from over packing. Debbie and Paul were going on a cruise and Debbie had a bag to match every outfit; she actually had a separate suitcase just for hand bags! The Magnafabs, which were patented by the couple back in 1998, allowed a quick change in style and look without the need for a different hand bag. Women could now accessorize in a much more space-saving way. "They allow you to pick the artwork to go with the outfit," she said. Since the Sharks honed in on the Magnafabs, Paul did most of the talking. No knock on Paul, he was every bit the gentleman when we spoke, but he came off as too slick. Had Debbie done more talking, her wild and wacky personality would have won the sharks over- just like she won me over!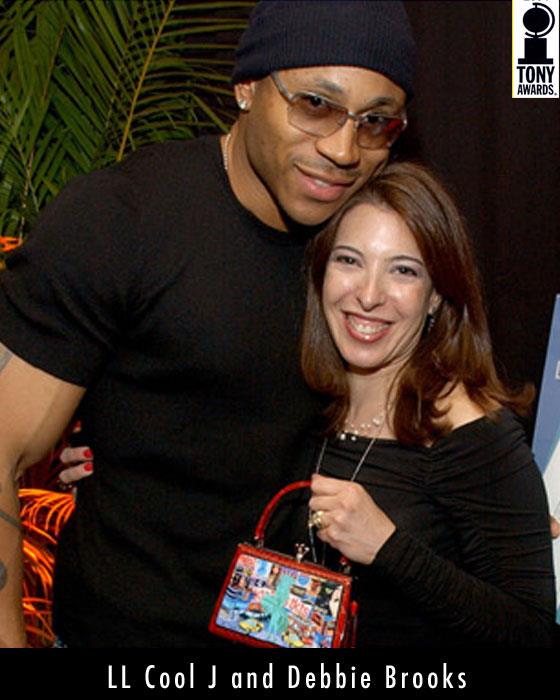 "We brought so much stuff," said Debbie, "and all they wanted to talk about was the Magnafabs. We never got the point across that Debbie Brooks is a BRAND." The brand is all about her art, and it's a brand that's had much success, too. In 2004 and 2006 she worked with Peter Mack and designed Olympic art for the Olympic Swim Team. She counts over 100 celebrities as customers, from LL Cool Jay (he bought one for his wife) to Brittany Spears, to Gwyneth Paltrow to Renee Zellweger.  She is also very active in charity work. "Art with a heart I call it," said Debbie, "I made a pact with God that if I became successful, I would give back."  Her first charity was Dress for Success, the organization that provides business clothing to low-income women. "I was such a fashion disaster, I used to spray paint my shoes different colors to match my dresses. My feet ended up bright blue one night!" Debbie's charitable endeavors have come a long way; she donates a percentage off the top of sales, sometimes splitting that with retailers, to a variety of charities. She also donates a percentage of sales from her many Trunk Shows.
Another cool thing about Debbie and Paul is all of their art work, hand bags, and accessories are hand-made in New York State. "We import fine Italian leather, in small batches, and put everything together here," Paul explained. "We use the finest quality leather, but we want to keep the fashion accessible by doing limited runs and offering the quality of a $3000 Gucci Bag at a fraction of the cost. It's affordable high fashion."
Shark Tank did have some impact on the Debbie Brooks' business. Their website saw a huge increase in traffic- but did not crash. Their retailers were happy with the exposure too, for the most part. Would she have done things differently if she had a second chance with the Sharks? "I wish they had shown more of the line and I wish people had seen the real Debbie," she said, "I love interacting with people at my trunk shows and I love being out there meeting people. I was too rehearsed. I need to just let my natural gifts shine through."
Funded or not, Debbie Brooks is another Shark Tank success story. Her brand, her business, and her marriage to Paul are still going strong. The couple have a beautiful 17 month-old girl who will, undoubtedly, be the best accessorized kid in pre-school. It will be interesting to watch their story unfold.