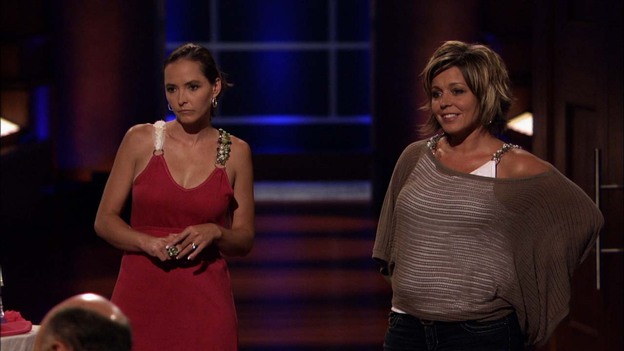 TriMi Tank jumped into the Shark Tank last Friday night. Entrepreneurs Lindsay Johnson and Nikki Bilski, two Pittsburgh hockey moms, didn't get funding, but they are the most recent example of a Shark Tank success story. I spoke with Lindsay Johnson, she's the one on the left, today to find out more about TriMi Tank and the entrepreneurs' Shark Tank experience.
As always, I wanted to know about their website traffic after the show aired. "The site went crazy," said Lindsay, "I'm still not sure of the exact numbers, but our sales went up 900%. The site never went down completely, but there were some issues with logging into user accounts in the shopping cart."
Crazy web traffic after appearing on Shark Tank is nothing new, but the entrepreneurial moms only had a functioning e-commerce site 4 weeks prior to airing.
"We weren't originally supposed to air. They added our segment after ABC picked up additional episodes, so we got a call from a producer a month before we were going to be on." The ladies hopped to it and got a site up quickly to capitalize on the post show web traffic. "We already have people re-ordering because they like them so much," she added, "there's no way people in other parts of the country would have ordered from our site without being on the show."
The pair has had a very busy week. "We're still making everything by hand and shipping everything ourselves. The guy at the post office has not been happy to see us; I know I'd be irritated if I were behind me in line!" Lindsay admits that making everything by hand has slowed them down, "but we have heard from a lot of investors this week. We are hoping we can find someone to help us, but we're being careful about who we will choose to work with. Plus you never know who is placing orders either, it could be someone who might want to invest."
Lindsay and Nikki have been cooking up the idea for TriMi Tank for quite a while, "we were driving our husbands crazy, so we applied to Shark Tank as a joke just to shut them up," she said, "when we didn't get picked, it was like 'oh well, at least we tried.' I was on my way to a hockey practice when the producer called and said we would air; I nearly crashed my car!"
The gals are making some money now, "but it seems like everything we make goes right back into the business. We don't have deep pockets so we are being careful." They are looking into more distribution through internet channels like Amazon and others, and they are in some boutiques. The ladies also have jobs. Nikki is a hairdresser and helps with her husband's books for his construction company.  Lindsay is a free-lance graphic designer. "I do work for a big baseball catalog distributor in Pittsburgh and he gets us our shirts at his cost," she said.
It turns out the catalog businessman is a high school friend of Mark Cuban. "We never got that bottle of wine from Kevin O'Leary and we never got the Icy Lite from Mark. I'm gonna ask him to email Mark and get us those Icy Lites!"
She felt the show portrayed them fairly, "but it wasn't made clear that we were only selling for a month prior to taping. It made it seem like the 100 sales was a bit pathetic. They also played up the flea market thing- we were making sales in boutiques too."
The pair were in business for such a short time, many of their friends and neighbors weren't aware of what they were up to. Lindsay's family was aware, and her 13 year old daughter was "quietly embarrassed by the whole thing. I posted an announcement about our Shark Tank appearance on her Facebook wall, and she erased it!"
Lindsay, who has two dogs, likes Pittsburgh area business Puppy Cake. "It's unique, she's from Pittsburgh, and I'd bake a cake for my dog," she said. "I also like Steve from Talbott Teas. He was hanging out with us in the green room while Shane was practicing his lines. He was a cool guy."
Lindsay said she truly believes TriMi Tank will be back on Shark Tank. "Look for us in a follow up segment in season five!"
I also asked Lindsay and Nikki "The Question." You can get their answer HERE.